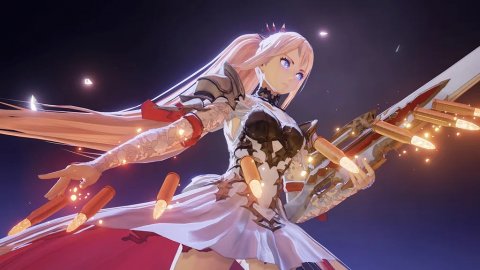 Tales of Arise
Tales of Arise returns to show itself in video, this time with a spectacular trailer that Bandai Namco wanted to dedicate to the female protagonist of the game, the beautiful and shrewd Shionne.
Out September 10 on PC,
PS5
,
PS4
Xbox Series X
| S and Xbox One, Tales of Arise tells of the meeting between a boy and a girl, Alphen and Shionne, coming from different worlds but both destined to change the future.
As seen in filmed, Shionne is an elegant and proud woman, endowed with a power that allows her to control lightning but does harm to anyone who touches her, forcing her to avoid contact with other people.
Tales of Arise, Shionne is the female protagonist of the game. With a rich cast of characters, an intuitive and rewarding combat system and an immersive story set in a world steeped in charm, Tales of Arise takes Japanese school role-playing to the highest level.
The protagonists Alphen and Shionne find themselves at the center of the eternal conflict between two rival peoples. During their journey they will be called upon to accomplish great feats together with new friends and allies.
The main points of the story are narrated by the wonderful animated sequences of ufotable, which make the adventures of our heroes even more engaging.
Source Have you noticed any errors?
---
News
Today Bandai Namco released a new trailer of the upcoming cross-generation JRPG Tales of Arise introducing the heroine, Shionne.
Published on June 25, 2021 Giuseppe Nelva
Today Bandai Namco released a new trailer of the upcoming cross-generation JRPG Tales of Arise.
The trailer focuses on one of the main characters of the game, Alphen. We both get to see story cutscenes and gameplay, providing a look at his fighting styles and some rather impressive combos he can deliver.
You can check the trailer out below.
Tales of Arise is coming on September 10 (September 9 in Japan) for PS5, Xbox Series X|S, PS4, Xbox One, and PC.
If you want to take another look at the game, you can enjoy lots of gameplay, the latest screenshots, the latest trailer, the previous trailers and screenshots, more gameplay,  another reveal including details on editions and bonuses, another trailer, one more, another promotional video in English, some screenshots and artwork, the first batch of images, and the original announcement trailer.
If you're unfamiliar with the game, you can read an official description below and my hands-on preview.
"Tales of ARISE follows the story of Alphen, an iron-masked individual whose home planet of Dahna has been enslaved and stripped of natural resources for the past 300 years by the nearby planet of Rena. As Alphen fights to free his people he encounters Shionne, a girl from Rena who is on the run from her countrymen. Both Alphen and Shionne will be joined throughout the journey by a supporting cast of characters to help in their fight for freedom.
Tales of ARISE carries the DNA of the much-loved Tales of franchise while also introducing advanced graphics and an evolved combat system to help push the series into the future. A new "Atmospheric Shader" developed by BANDAI NAMCO Studios adds subtle touches to the look and feel of the world evoking a hand-drawn painting. Combat has also evolved, allowing for a better sense of spectacle and direct player feedback based upon their actions. The graphics, combat system, characters, and story all work together to present a vivid and realized world that will immerse players as they are transported to the many environments and biomes they will explore throughout their time with Tales of ARISE."