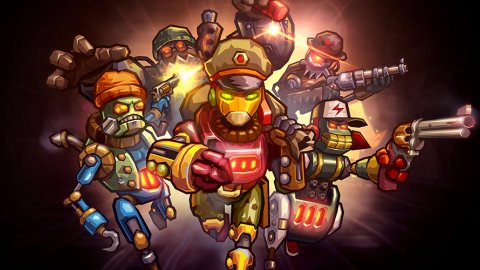 Nintendo Switch
Nintendo Switch will
be present at First Playable, the event organized by IIDEA dedicated to Italian developers, with a panel in which indie productions will be discussed together with the authors of the SteamWorld series.
With many new games in the works, the SteamWorld team will participate in the virtual panel which will be broadcast tomorrow, July 1st, at 16.00 with two of its leading members, namely Ulf Hartelius and Robert Olsen.
The developers will be available for any questions from the public and will tell their experience in creating video games
on Nintendo Switch
in a dedicated panel, which will be moderated by Elisa Di Lorenzo, Co-Founder of the Untold Games studio.
SteamWorld, an official artwork. Ulf Hartelius
has been in
charge of coding and designing the series since the second SteamWorld Dig chapter and is currently working as Game Director on the highly anticipated new The Gunk.
Robert Olsen has also been in the team since the beginning of the saga: starting as a Junior Game Designer, he has become, over the years and after numerous successes, one of the most experienced and senior members of the Swedish Image & Form studio .
Four years after the release of Nintendo Switch, the library of the Nintendo home console is gradually growing, so much so that it has surpassed the milestone of over 2000 titles, and this also thanks to independent development companies, always more synonymous with quality.
Nintendo has chosen to be at the forefront of supporting development studios by providing, with its dedicated round tables, a great opportunity for media and public visibility for developers, so that they can continue to grow and evolve.
First Playable is an event focused on the video game business, where developers and publishers meet to establish collaborations and projects together, but it does not only aim to connect the operators of the sector.
Consistent with the mission of IIDEA and its institutional partners, the event has the most strategic aim of making Italian companies grow and help them develop their business in a competitive and constantly evolving international market such as that of video games.
Have you noticed any errors?
---
News
Atlus has released one more brand new trailer of its upcoming JRPG Shin Megami Tensei V, focusing on another of its 200+ demons.
Published on June 30, 2021 Giuseppe Nelva
Atlus has released one more brand new trailer of its upcoming JRPG Shin Megami Tensei V, focusing on another of its 200+ demons.
We get to see the recurring demon Mothman in action, following the previous videos we saw over the past few days featuring Jack Frost, Fionn mac Cumhaill, Amanozako, Angel, Daimon, Mermaid, Mandrake, Arioch, Kumbhanda, Feng Huang, Inugami, Turdak, and Fafnir.
You can enjoy the trailer below.
Shin Megami Tensei V releases for Nintendo Switch on Nov, 12, 2021. If you're unfamiliar with it, you can enjoy and a brief official description below, hinting at the story.
"When a grisly murder scene in modern-day Tokyo blocks our protagonist's walk home, an unplanned detour leaves him buried and unconscious.
He awakens in a new Tokyo, a wasteland ravaged by apocalypse now called Da'at… but before bloodthirsty demons can claim his life, a savior emerges, and they unite to become a mighty being neither human nor demon: a Nahobino.
With newfound power, the protagonist ventures through Da'at, an enigmatic realm filled with mythical deities and demonic tyrants in constant conflict for survival. Searching for answers, the protagonist must forge his own path in a battle between light and dark to dictate the fate of the world. "
If you want to see more, you can enjoy the latest trailer, another trailer from the latest Nintendo Direct, plenty of gameplay showcased afterward, even more gameplay, and the latest screenshots.
If you're curious about what some of the original creators of the Shin Megami Tensei series are doing nowadays, you can also take a good look at the recently-revealed Monark, which is coming for PS5, PS4, Nintendo Switch, and PC under Furyu's umbrella.