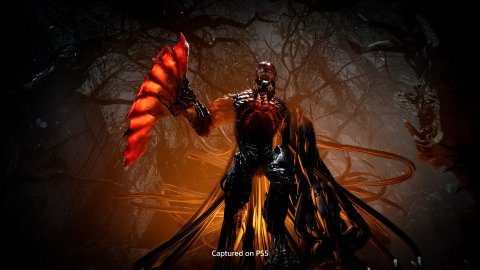 Housemarque is perfect for PlayStation
In a recent interview, Hermen Hulst, the head of
PlayStation
Studios, talked about the reasons that led his company to focus strongly on Housemarque. For the former Guerrilla Games, the Finnish studio is a perfect fit for PlayStation, being a group "with a strong identity and technically capable".
While we still don't know if
Sony
has bought Bluepoint Games, the Japanese company is celebrating the acquisition of Housemarque, Returnal's studio. According to Hermen Hulst and Ilari Kuittinen, the co-founder of the studio, it was a very natural transition. "We have been working with these guys for 15 years. And it all started when we visited Hermen's studio ..."
"It was easy for me to decide. In 2006 Ilari and the heart of her team came to Amsterdam when we were struggling to get Killzone: Liberation on PSP. And there I saw with my own eyes how technically skilled the heart of Housemarque developers was [...] From my point of view they are a perfect graft for PlayStation Studios thanks to the strong identity that their games have. They are very intense, with an arcade style, but always with something new on top ".
The two then confirmed plans to further expand the studio, so that they could aim for even more ambitious results. And to do so, the collaboration with Sony is essential. "Let's be frank, they have some of the best game developers in the world. We are very proud to be a part of them and hope to
be able to
collaborate and learn from them in the future," said Kuittinen.
Source Did you notice any errors?
---
Returnal studio Housemarque acquired by PlayStation
PlayStation Studios has announced the latest studio to join its ranks is Returnal and Resogun developer Housemarque.
In a post on the PlayStation Blog, head of PlayStation Studios Herman Hulst welcomed the Finnish studio to the family of first party studios. He said "Housemarque's recent release of Returnal proves the studio is one with incredible vision, capable of creating memorable new games that resonate with our community. This addition enhances the creative force of PlayStation Studios, and I cannot wait to see what the future holds for Housemarque."
Housemarque's own co-founder Ilari Kuittinen added "We are so excited to finally join the PlayStation Studios family! This gives our studio a clear future and a stable opportunity to continue delivering on gameplay centric approaches, while still experimenting with new methods of narrative delivery and pushing the boundaries of this modern artform."
The developer's first title for PlayStation was Super Stardust HD all the way back in 2007 for the PlayStation 3. The team would continue to produce several more excellent shoot-em-ups for Sony's systems, including Resogun for the PlayStation 4 in 2013. Of course, this year they released the excellent Returnal which marked the studio's first foray into a more narratively-focused shooter.
Kuittinen concluded: "We at Housemarque are gamers, and we have grown from the need to perfect and tinker with facets of games that we have found most fascinating. We are also not known for shying away from running our own course and trying out new combinations. With the backing of SIE and its family of studios supporting us, we can truly grow into our place in the industry and show what Housemarque can create with no limitations."
Housemarque's acquisition is the latest studio to bolster the ranks of PlayStation Studios, with Sony welcoming Astro's Playroom developer Team Asobi into the fold last month.