Starship Troopers - Terran Command, gameplay trailer of the ambush in the Canyon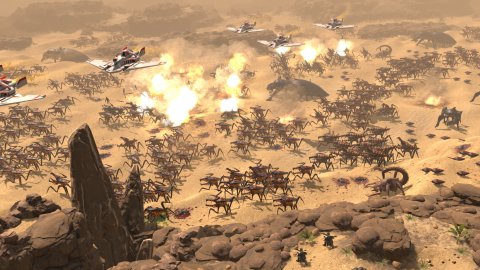 Slitherine, an Italian studio and label specializing in strategic games,
has released
a new gameplay
trailer for
Starship Troopers - Terran Command. For those unfamiliar with it, Terran Command is a real-time strategy game inspired by the famous Space Infantry book (as well as a film series) Starship Troopers. In this video you can see a spectacular ambush in a Canyon by the evil arachnids.
In order to create a game that lives up to expectations Slitherine is trying to create a potentially infinite experience, with campaigns generated in a way dynamics that should be renewed after each game.
Each unit also has special abilities that can be exploited to turn the battle in your favor. To improve the strategic component Slitherine has made sure that the height of the ground was a factor to be taken into account during the battles, which affects the visual cone and the line of fire.
During the games the units they will evolve thanks to a tree of technologies that will make them more and more efficient and resistant.
In addition
, there will also be leaders to attach to your troops, which can be upgraded during the campaign.
Finally, there will be thousands of aggressive insects to exterminate, for the glory of the Earth Federation. What do you think?