Gears 6: The Coalition may have multiple teams working on at least two projects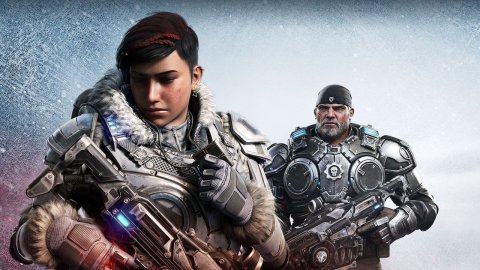 Gears 6
According to what was reported by the insider Klobrille, considered more than reliable on the things of the
Xbox
, The Coalition would have several internal teams and would be working on Gears 6 and at least another medium-sized project, always linked to the Gears of War series.
"Yes, The Coalition is made up of several teams. The studio actively developed Gears Tactics with Splash Damage, along with Gears 5 (and also Gears Pop).
With Greg Juby and Aryan Hanbeck the studio has two art directors, so The Coalition is in a position to develop (at least) two games at a time. The studio's history has shown that it's since its creation that it has been working on at least two games at the same time. "
Klobrille also clarified the question of the second project, the medium one, denying the possibility that it is a triple A, unless The Coalition does not outsource as it did with Gears Tactics. According to him, this second project
will be more
experimental than Gears 6. The Coalition would be making it just to see to push the series in new directions.
Naturally, as always in these cases, it is right to specify that what Klobrille reports is all information to be verified. However, we imagine that, given The Coalition's past,
it is not
difficult to say that the possibility that it has at least two internal teams is anything but absurd.
---
Guilty Gear Strive Characters List: I-no Revealed As 15th Character
February 21, 2021 2:17 AM EST
We now have the full roster, the list of all characters playable in Guilty Gear Strive at launch.
At the 2nd Annual Japan Fighting Game Publishers Roundtable, Arc System Works revealed I-no is the 15th character included from the get go in Guilty Gear Strive (PS4, PS5, PC via Steam). A season pass has already been announced, and can be preordered alongside the game. Meaning more characters will be coming in the long run. The trailer for I-no and some screenshots are included below.
In Guilty Gear Strive, I-no is still voiced by legendary seiyuu Kikuko Inoue, I-no as always acts high and mighty, and considers all humans to be inferior to herself. Including "That Man", the person she's working for. Her costume is pretty similar to her past apparitions, focusing on sex-appeal. Ishiwatari thought up her new nickname: Hard Rock Witch, and explained I-no has been reworked for Strive. While she was revealed now, I-no will not be joining the ongoing Beta.
Guilty Gear Strive – I-no Reveal Trailer, ScreenshotsIn total, we have 15 playable characters in Guilty Gear Strive at launch:
Anji Mito
Giovanna
Leo Whitefang
Zato-1
Faust
Chipp Zanuff
May
Sol Badguy
Ky Kiske
Axl Low
Potemkin
Millia Rage
Ramlethal Valentine
Nagoriyuki
I-no
Guilty Gear Strive will be launching on April 9, 2021. The ongoing Open Beta Test has also been extended till February 23. As the servers have been going through several downtimes. Many players would be frequently kicked out of the server as well. There's virtually no lag though thanks to rollback netcode. Personally speaking, I believe Guilty Gear Strive is definitely on the way to becoming the most successful game of the series in terms of sales. Now to wait and see how the final game will turn out.