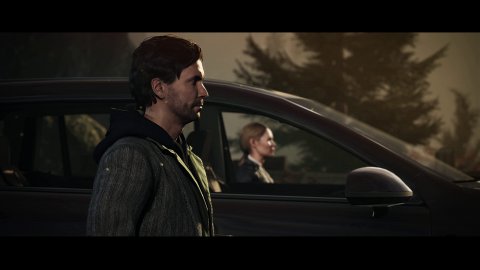 Alan Wake Remastered
Alan Wake is about to return Remedy has released the first images of Alan Wake Remastered, a revised and restored version of his cult game, of which many have been asking for a sequel for years now. The shots were taken from the product pages on Amazon. Let's see them collected in a handy gallery:
+10 Alan Wake Remastered is in development for PC (
Epic Games Store
exclusive),
PS4
,
PS5
,
Xbox
One and
Xbox Series X
and S. It will be available starting this fall , on a date yet to be decided. For now Remedy has not shared the details on the remastering, but given the shots we can assume that it has cleaned up the graphics, increased the selectable resolution on all platforms, improved some textures and more.
When his wife goes missing on their vacation, best-selling author Alan Wake embarks on research in which he finds pages of a story he doesn't even remember writing. A dark presence roams the small town of Bright Falls, pushing Wake to the brink of insanity in his battle to unravel the mystery and save his love.
Presented in the style of a television series, Alan Wake boasts the trademark Remedy storytelling and heart-pounding action scenes. As the player delves deeper and deeper into the mystery, he will face looming adversities, unexpected twists and turns. Only by learning to master the combat mechanics Fight with the Light will the player
be able to
stay one step ahead of the darkness that spreads across Bright Falls.
With an action game soul and psychological thriller mind, Alan Wake's intense atmosphere, deep, multi-faceted story, and extraordinarily intense combat sequences offer players an experience of fun and original game.
Have you noticed any errors?
---
Alan Gets A New Face Model In Alan Wake Remastered
Alan Wake Remastered will feature higher-quality textures but in addition to that will feature new and updated character models as well.
According to in-game screenshots shared by an Amazon product listing earlier today, protagonist Alan Wake will receive a facelift in the upcoming remastered game. His new face model now bares more resemblance to the Finnish actor Ilkka Vili who originally played the titular character and provided all motion-captured sessions and facial expressions. Hence, it is only fitting that Alan Wake Remastered updates the lead face model to the live-action actor in tribute.
The following is a comparison between the original and remastered Alan Wake. That as well as the other screenshots which confirm how Alan Wake Remastered will be using new and crispier 4K textures alongside improved lighting to add to the horror of the small fictional town of Bright Falls.
Alan Wake Remastered was officially announced just a day ago and will soon be "nearing its completion," according to creative director Sam Lake, who furthermore stated that "the visuals all around, including the character model of Alan Wake himself and the cinematics, have been updated and improved with some choice next-generation upgrades."
Expect developer Remedy Entertainment to share more details about the new graphical improvements in the coming weeks. There is also the matter of the PC version releasing only on the Epic Games Store since publisher Epic Games is involved. It needs to be clarified if that will be a timed or permanent exclusivity.
Alan Wake Remastered will release somewhere in fall 2021. The base game will be accompanied by all post-release expansion packs on PlayStation 4, PlayStation 5, Xbox One, Xbox Series X and Xbox Series S, and PC.