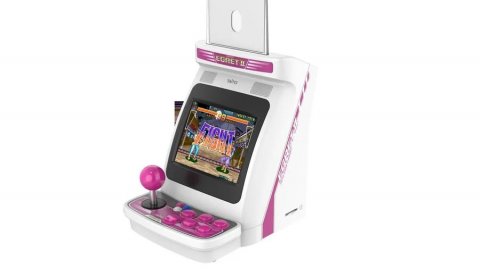 Taito has announced Egret 2 Mini
A new mini arcade cabinet is coming, this time from Taito with the Egret II Mini, a device that recalls other similar initiatives recently seen and containing 40 games, also at the moment only foreseen for the Japanese market, waiting of further developments.
The Egret II Mini is a faithful reproduction of the homonymous coin-op arcade machine by Taito, built following the same concept as the Astro City Mini by
Sega
or the Neo Geo Mini is also quite similar in shape. It exactly reproduces the appearance of the arcade cabinets that hosted the Taito games in Japan, but all reproduced on a much smaller scale.
Egret II Mini by Taito is a small reproduction of the cabinet of the same name The machine in question was originally launched in 1996 by Taito, as a standard device capable of accommodating the various classic titles in the company's catalog, ranging from its origins as 1978's Space Invaders to 90's arcade games.
A selection of these will be present already included within the Egret II Mini with 40 games, plus another 10 that will be sold separately for a total of 50 through subsequent updates. Among the peculiar features of the Egret II Mini there is the possibility to physically rotate the screen to position it vertically, in order to better reproduce the experience of different titles such as Space Invaders and other shooters, and an additional control panel containing a trackball and a potentiometer, usable on other classic games that took advantage of such particular controls as (respectively) Cametry and Arkanoid.
For the moment, these are the games announced for the device, but this is only a first part:
Space Invaders Lunar Rescue Qix Elevator Action Chack'n Pop Bubble Bobble Rastan Saga Rainbow Islands Extra New Zealand Story Don Doko Don Violence Fight Cadash Liquid Kids Metal Black Kaiser Knuckle
To which are added the specific ones compatible with paddle and trackball, inserted in an SD Card bundled with the additional controller:
Strike Bowling Arkanoid Plump Pop Syvalion Cameltry Arkanoid Returns
Egret II Mini has HDMI output for connecting to TV, SD Card slot and USB connector. The
release date is
still a long way off, set for March 2, 2022, but pre-orders are already open in Japan, where it is priced at 18,678 yen, or about $ 170.
Source Have you noticed any errors?
---
Taito Arcade Selection Egret II mini console is filled with classic 80s coin-op goodness
Taito Arcade Selection Egret II – we think we're in love (pic: Taito)
The makers of Space Invaders and Bubble Bobble have revealed their own mini arcade console, similar to the Sega Astro City.
Never have we been so glad to see a company copying someone else as with the Taito Arcade Selection Egret II mini console, which is blatantly influenced by the Sega Astro City mini console – except filled with 40 classic Taito games.
After being bought by Square Enix in 2005, the Taito name has only recently begun to be used again, with new titles such as Bubble Bobble 4 Friends and The Ninja Saviors. Back in the day though they were one of the most accomplished arcade developers around.
The fact that they made Space Invaders is reason enough to be remembered but they've also been responsible for the likes of Darius, The NewZealand Story, Arkanoid, and Rainbow Islands (aka the best video game ever made).
As with the Astro City for Sega, Egret II is the name of one of Taito's original arcade cabinets and the mini version is a perfect recreation of the full-size edition.
The screen can be rotated horizontally or vertically, depending on the game, and all the controls are microswitched. That's why it costs a hefty ¥18,678, which works out to around £120.
The console can be connected to a TV, just like the Astro City Mini, and has a SD card slot to add extra games.
Space Invaders (1978)Lunar Rescue (1979)Qix (1981)Elevator Action (1983)Chack'n Pop (1983)Bubble Bobble (1986)Rastan Saga (1987)Rainbow Islands EXTRA (1988)Cadash (1989)The NewZealand Story (1988)Violence Fight (1989)Don Doko Don (1989)Metal Black (1991)MizuBaku Adventure (aka Liquid Kids) (1990)Kaiser Knuckle (aka Global Champion) (1994)
Taito has already announced a SD card with 10 extra games that originally only worked with a trackball or paddle, including Arkanoid, that comes bundled with its own unique controller for ¥12,078 (£78).
Pre-orders start this week in Japan, with a second 2P controller, identical to the main one, available for ¥8,778 (£56), as well as a cheaper alternative controller with a D-pad instead of a joystick.
Although it should be relatively easy to import from Japan it's worth noting that the Sega Astro City is now getting an official UK release, although we may not be as lucky with the Egret II.
More: Games news
Only 15 of the 40 games have so far been announced, as you can see in the list above. This is, again, exactly how Sega unveiled their mini console, so expect to find out about the rest over the next few months.
The mini console is due for release in March 2022, with more information available at the official website.
Email gamecentral@metro.co.uk, leave a comment below, and follow us on Twitter.
MORE : New Life Is Strange and Tomb Raider promised at Square Enix Showcase
MORE : Darius Cozmic Collection Arcade and Console review – packed to the gills with shmups
MORE : PC Engine Mini review – all 57 games reviewed, from Snatcher to Splatterhouse
Follow Metro Gaming on Twitter and email us at gamecentral@metro.co.uk
For more stories like this, check our Gaming page.