Super Nintendo World, the Mario Kart tour in video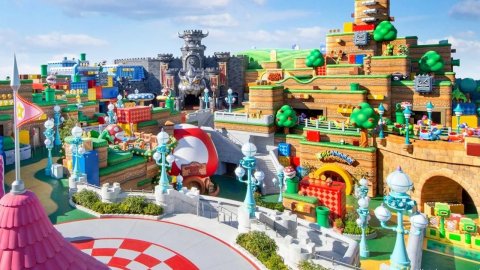 Super Nintendo World
is the new theme park built at Universal Studios in Japan and within this the Mario Kart tour should be one of the main attractions,
so it is
interesting
to be able to
see it in video in an almost complete way.
Furthermore, considering that the opening of Super Nintendo World has been postponed indefinitely, with the persistence of the emergency situation due to the
Covid-19
pandemic, the videos shown below may be even more interesting, given that it is difficult to attraction can be seen in real life.
On the other hand, the fact that the park is located in Osaka can also represent a logistical obstacle that is not easy to overcome, but this would already be secondary. The videos shown below therefore show about 20 minutes of the attraction dedicated to Mario Kart, or the almost complete tour of the thematic "carousel".
A particular feature of the Mario Kart tour is the fact that it is based on use of AR viewers, which enrich the experience by adding elements not present in reality but which integrate in this way with the real settings, thus recreating an experience as close as possible to a real game of the videogame version of Mario Kart.
In the meantime, we can also explore other parts of the Super Nintendo World through the virtual tour to discover the park,
waiting for news
of its actual opening.
Source