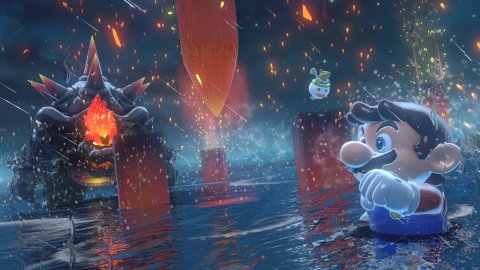 Bowser's fury Spoilers
Super Mario 3D World
+ Bowser's Fury is coming soon and gamers can't wait to get their hands on this
new Nintendo Switch
exclusive. Some, however, even managed to get a copy of the game in advance and, sadly, started leaking online. Of course, we will not report any relevant information about the game in this news.
A good part of the game is already known, as it is a port from Wii U, but the "Bowser's Fury" package is completely new . In this section we will have to get help from Bowser Junior to stop the destruction of Bowser Furioso, corrupted by a strange substance. Even if the narrative component of these games is not fundamental, we are sure that many fans prefer not to suffer spoilers of any kind, even if only regarding possible new game mechanics not yet announced. So be careful surfing the net.
A Twitter user who deals with datamining, leaks and rumors still reports some technical details relating to this version of the game. First of all, it is specified that it was finalized on November 25, 2020. The code name of the expansion is "Ocean" and the port was made with a collaboration between 1-Up Studio and Nintendo Software Technology, or the USA team of Nintendo.
While we await the arrival in the West, we report that Super Mario 3D World +
Bowser's Fury
convinces in the votes of Famitsu. Here are also the details on the resolution and frame rate of the Switch version.