Call of Duty Black Ops Cold War: the "jump-shotting" has been weakened, here's how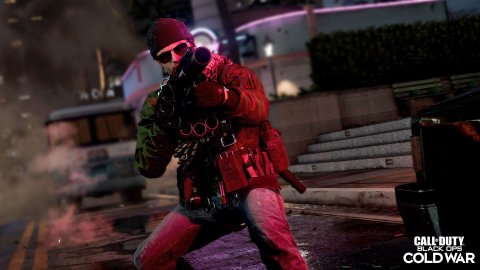 Treyarch has weakened the "jump-shotting" tactic within
Call of Duty
Black Ops Cold War
. We are talking about an advanced move of the shooter used to gain an advantage against opponents. In practice, you aim and shoot while jumping: in this way it makes it more difficult for the opponent to hit you, especially in the head (where you suffer more damage). The consequence is that players spend their time jumping around, especially when they have to turn a corner and suspect that there is an opponent waiting for them.
"Jump-shotting" has always been a complex topic for the community of Call of Duty. Some argued that it shouldn't be allowed, while others see it as a way to allow the less experienced not to succumb to the more skilled. Treyarch has clearly decided that this tactic must not dominate Call of Duty Black Ops Cold War and, as a result, has changed small details with the latest patch, which make a huge difference.
In practice, there is now a penalty as soon as you land after a jump. You suffer a minimal penalty in terms of travel speed and jump height immediately after landing - it's like being stuck on the ground for an instant, thus preventing you from continuing to jump around and shoot wildly. In other words, you can use a single well-calibrated "jump-shotting", but not several in the following: it is an interesting solution that does not deny the strategy to the players of Call of Duty Black Ops Cold War, but makes it quite risky. to discourage continued use.
In the video at the beginning of the news it is possible to see how "jump-shotting" works, in case you have never seen a player exploit it. Finally, we would like to point out that Activision
Blizzard
will apply the Call of Duty model to all its franchises.
Source