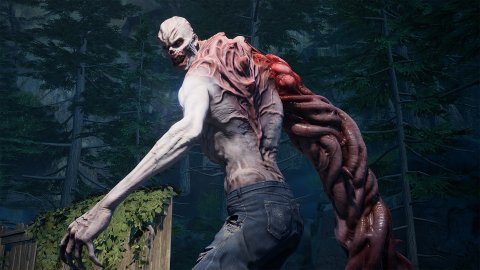 Back 4 Blood
Back 4 Blood
is finally available on consoles and PC. The
first person shooter
, however, is having some problems on computers that use Razer software, precisely, blocks and stuttering are reported. The company is investigating the matter.
Reports, made for example on Reddit, suggest that the problem arises whenever Back 4 Blood players use the mouse or keyboard to play. On the other hand, it seems that the controllers do not cause problems. At the same time, though, it's not a problem for all gamers, so Razer is trying to figure out what actually causes it.
One of the monsters from Back 4 Blood Razer said it is "actively investigating the problem" . PCGamesN has also contacted Turtle Rock Studios, which has not yet released an official statement regarding these Back 4 Blood issues. For the moment, the best solution
seems to be
to disable Razer software, waiting for a patch.
If you haven't decided yet whether to buy the game, here's our review of Back 4 Blood, the spiritual sequel to Left 4 Dead.
Source Have you noticed any errors?
---
It's hard to talk about Back 4 Blood without talking about its obvious influence. For all intents and purposes, Back 4 Blood can be thought of as Left 4 Dead 3, and it wastes about as much time trying to divert your attention from its spiritual predecessor as I did, that is to say almost none at all. From the numeral 4 in the title to its being developed by the same studio to most things about its co-op zombie shooter gameplay, Back 4 Blood is everything a Left 4 Dead game would be if it were brought to the new consoles, and that's great news. Developer Turtle Rock seemed to take so many of the genre-defining aspects from past Left 4 Dead games and infuse them with modern sensibilities to make a game that's not just nostalgic for the people who have put hundreds of hours into the original series but, if you can look past a handful of bugs and a somewhat myopic focus, is massively satisfying as a modern experience in its own right.
It wouldn't be a Left 4 Dead game, or much of a co-op survival shooter at all, without a zombie outbreak. Back 4 Blood skirts around that word for the most part, but what the game calls The Ridden are zombies through and through. There isn't an overwhelming amount of story thrown in aside from a cutscene or two inserted between acts that show the cast of characters moving from place to place and getting an update on their next mission. But while it would've been interesting to see some more context around how this group of people came together or how they set up so many safe rooms along the way, the sparse amount of explicit storytelling leaves room for the gameplay to breathe and lets the characters speak for themselves.
This group of 8 seeming misfits is where the diversity of Back 4 Blood's writing is given permission to shine through, from Holly's excitability to Walker's gruffness. Whether playing online or solo, you'll always be in a group of 4 so-called Cleaners, each of which has contextual dialogue with each of the others, so even within gameplay you'll find characters saying specific lines to another member of your party. Some lines are more story-focused, though most are the usual asking for ammo or wondering who was responsible for the friendly fire, but even hearing specific callouts and interactions between different characters lends the game an air of authenticity.
'Back 4 Blood is everything a Left 4 Dead game would be if it were brought to the new consoles, and that's great news.'
In gameplay, the Cleaners each have unique enhancements that differentiate them as well as unique individual starting weapons. Some, like Doc, have team-focused abilities that allow for healing or extra equipment slots, while others, like Jim, improve themselves with things like damage boosts in certain scenarios. Regardless, whoever you decide to play as handles in about the same way. It's good to have someone on your team act as the team medic or the commando, but no one really controls any differently, which makes for an ability to play any character without hiccups but also feels like a missed opportunity to allow for more diversity in gameplay.
Luckily, Back 4 Blood's core gameplay is both satisfying and highly replayable. Like Left 4 Dead, it's structured into a series of shorter, linear levels with a handful of tasks you need to complete, which can range from delivering a package to destroying Ridden nests or surviving a horde. Of course, the Ridden are the stars of the gameplay show, and carving through every enemy from the normal grunts to the larger and more terrifying Bruisers or Reekers is a blast. Many of the enemy types are clearly related to those from the Left 4 Dead games, and I do wish there was more variation in the Ridden, as it feels like there are even highly similar character models between them.
Nevertheless, gunplay is fun and smooth. Guns stray a bit on the loose side, but overall I found myself enjoying combat at every turn. I usually played as Holly, whose bat is as satisfying as it gets and can get you out of a pickle quickly. None of the stages overstay their welcome, either. Most of the 30 or so stages, divided into 4 acts, take somewhere in the realm of 15-20 minutes at most, so it's easy to pick up and play a level or two in your downtime. And if you fail, it's not the end of the world to start a stage from the beginning, which is good, since you'll probably die a lot. Even on the normal difficulty, I found that it can quickly get overwhelming if you don't play slowly and methodically, utilizing your teammates. Zombies can quickly gain numbers, especially if you set off one of the far-too-easily-triggered horde notifiers, from car alarms to flocks of pigeons. You get one continue per run with your team, but if everyone dies a second time, it's back to base camp to start a new run.
'Gunplay is fun and smooth. Guns stray a bit on the loose side, but overall I found myself enjoying combat at every turn.'
The way you play is technically up to you, though Back 4 Blood certainly doesn't shy away from guiding you to play a certain way. The preferred way to play is in classic 4-player online co-op, though unfortunately there's no local splitscreen option. This is the easiest and most straightforward mode, and you can drop in or out at the start of any level that you've progressed to on a given difficulty. There's also an option for a solo campaign that fills your squad with 3 bots, and while the friendly AI doesn't always want to stick by your side or sometimes refuses to revive you, it's an equally valid way to experience the campaign. However, the game unfortunately blocks you from progressing in the co-op campaign or earning supply points for upgrades in this mode and instead unlocks everything from the start. While online co-op is undoubtedly the better way to play, this is a confusing and frustrating method of gatekeeping those who want to play solo.
The most evident selling point is the new cards system. Cards act like perks that give you and your team boosts for a specific campaign run. For every instance of a run through the campaign, you can choose a certain number of cards from a custom-built or predetermined deck to help you out, and you choose another card from your deck for every level you complete. These are things like 5% faster move speed to having more copper spawn around the world to turning your melee attack into a knife stab. Some cards, like that last one, seem like no-brainers that I used almost every time, but others make for interesting decisions that do switch up gameplay in more or less noticeable ways. The biggest issue with the cards is that they bring more complexity than they're worth. It's because of these cards that you can't have a single campaign slot, and I don't find them as game changing as the game seems to think they are. It's a nice touch in theory as an added modifier of gameplay, but the extra time to create new runs and build new decks detracts more from the overall fun of the gameplay than it adds.
The other way to play Back 4 Blood is its PvP mode, Swarm, which allows up to 8 players to play in teams of four, one team of four Ridden trying to kill the other team of four Cleaners. You can feel some of what Turtle Rock did with Evolve in this mode, and like Evolve, it's much more satisfying to play as the Ridden than as the Cleaners, especially since it's the only opportunity you have to do so in the entire experience. As a standalone mode, it's a whole lot of fun to play around with and see what works or just go full speed ahead with your favorite Ridden, and it has some deeper strategies that I'm sure will get fleshed out as more people get their hands on it. I can see it getting stale after too long without some updates to the number of ridden or the maps, but as of now it's a solid addition to the package that may need a bit more love after launch.
'Back 4 Blood is virtually everything I could have wanted in a Left 4 Dead 3. Turtle Rock has taken everything they did in the original series, sprinkling in some of their work, and made a core co-op zombie survival shooter that is as satisfying and replayable as pretty much any of its competitors.'
When it comes to Back 4 Blood's overall presentation, it's very much an update of what Left 4 Dead 2 looked like a decade ago but brought into the next generation. It's very dark with some mesmerizing neon lights and the environments are mostly beautiful, though character models and animations can be a little janky. Levels run the gamut of traditional zombie settings, from the forest to the sewers, but they're diverse enough and bring about enough unique gameplay experiences to be forgiven. The sound design is excellent, topped off with a mission where you hold off a horde of zombies to some jukebox rock in one of the most memorable sequences in the entire game. As of launch, I did encounter a handful of bugs, including two hard crashes, but nothing that otherwise broke the game for me.
When it comes down to it, Back 4 Blood is virtually everything I could have wanted in a Left 4 Dead 3. Turtle Rock has taken everything they did in the original series, sprinkling in some of their work, and made a core co-op zombie survival shooter that is as satisfying and replayable as pretty much any of its competitors. Its only major downfalls are the points where it tries to do too much, both in its campaign structure complexity and its solo campaign gatekeeping, but on the gameplay front, these aren't quite game-breaking. Back 4 Blood can only be compared to what came before it, and it very nearly lives up to the giant its clear influences have become over the years.