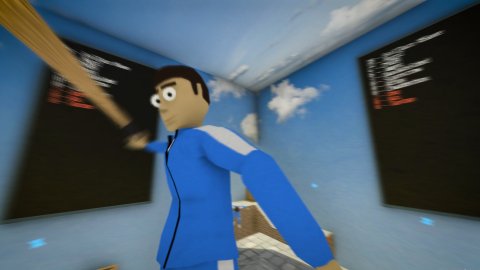 Crab Game is a free game that is enjoying great success on Steam, despite its not-so-excellent quality. The reason? Copy the dynamics of Squid Game without too many mysteries ... right from the title (Game aside, Squid means "squid", while Crab means "crab"). Probably the closest thing to the Netflix series currently on the gaming market.
Crab Game, one of the players playing one of the minigames What will be the scenario of this sublime attack of creativity? "Crab Game is a first-person multiplayer game where you fight for a cash prize by playing various mini-games based on children's games." Ironic that the description of the game states that "It is absolutely not based on any Korean TV series in streaming became part of pop culture, as this would cause me legal problems, so we definitely didn't. "
Good Dani, the developer, has a sense of irony. How ironic the many who are playing it must be, given that it is a title put together in a hurry, full of bugs and at times completely unplayable. Despite this, it has reached a peak of 29,937 concurrent
players on Steam
, as reported by SteamDB.
Crab Game on Steam
Have you noticed any errors?