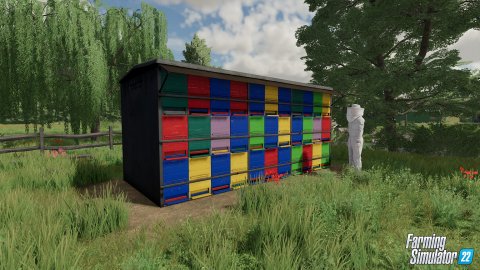 Giants Software has announced that in
Farming Simulator 22
> there will be greenhouses and beekeeping, two new features that will enrich the series. Obviously, beekeeping will make it possible to produce honey, while in greenhouses it will be possible to produce strawberries, lettuce and tomatoes.
A new trailer has also been published, showing farm animals and wild animals present in fields and forests. Let's see it:
Let's also see some pictures of the novelties presented, in a handy gallery:
Let's read other details taken from the official press release:
In combination with the new production chains, farmers will
be able to
significantly expand their business through more options and produce more crop types. Direct and local distribution will allow greater depth of play, especially in multiplayer mode together with other virtual farmers.
The importance of bees will manifest itself in Farming Simulator 22 through various effects on the farm: by placing hives near rapeseed, potatoes and sunflowers, the yield of these crops will increase thanks to pollination. Of course, the bees will also do what they do best, produce the honey that can be resold to the retail and grain factories where it will be used, along with other ingredients, to make breakfast food items. Beehives of various sizes, productive during the warm seasons, will become a safe haven for bees during their winter hibernation
Have you noticed any mistakes?