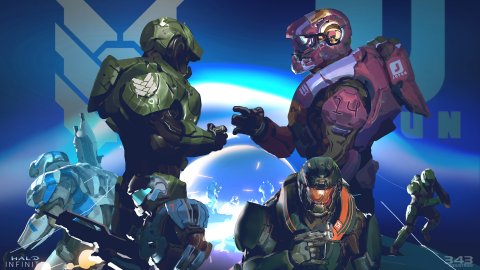 Halo Infinite
Today we will see a
new trailer for
Halo Infinite. 343 Industries has in fact announced that it will publish one related to the PC version, at 6 AM PT / 9 AM ET (15:00 Italian time). The hope of many is that we see some gameplay from the single player campaign, although we imagine it will be more focused on the advanced technical features of this version.
To make the PC version of Halo Infinite, 343 Industries partnered with specialists from Sandbox Teams. The developers themselves will explain what to expect from the game at launch, which will take place on December 8, 2021.
It is assumed that in addition to the video, a post on the official blog of the franchise is also expected, providing further information on the subject. This, however, is only a guess, because practically nothing has been announced about it.
For now of the PC version of Halo Infinite we know that it was built specifically for the platform, which will have advanced graphics settings, which will support ultrawide and super ultrawide monitors, and will support features such as dynamic scaling and variable frame rates.
It also looks like the game will make an appearance during RazerCon 2021, which will take place today October 21st at 5:00 pm
Have you noticed any errors?
---
Halo Infinite is getting ray tracing thanks to a Microsoft and AMD partnership
© Image: Microsoft
Microsoft has selected AMD as its exclusive PC partner for Halo Infinite. While this means plenty of marketing opportunities, it's also fostered a closer engineering partnership with AMD that Microsoft says will improve frame rates in the campaign mode and eventually bring ray tracing to the game.
"We're looking forward to working closely with AMD to bring raytracing to Halo Infinite," says Noah Benesch, a product marketing manager at Xbox. "Raytracing is one our top development priorities post-launch and look forward to sharing more soon."
It's not clear if this rules out Microsoft using Nvidia's DLSS (Deep Learning Super Sampling) technology, but Microsoft does note that AMD is "exceptionally open to us bringing new rendering features across all hardware as well as performance improvements for all our players."
Beyond ray tracing, which will presumably be available across both Xbox Series X / S and PC, Microsoft says the AMD partnership has resulted in driver updates that "deliver massive improvements in frame time performance throughout areas of the game's campaign mode."
The engineering work has also improved Halo Infinite on processors with high core and thread counts, which is an area where AMD has excelled with its latest Ryzen processors. Microsoft and AMD have also created a Halo-themed Radeon RX 6900 XT. It's a limited-edition card that won't be sold, but Microsoft and AMD will be hold giveaways for the cards.
Outside of the AMD and Microsoft partnership, the Halo Infinite team has also been working with Discord and Razer Chroma RGB to ensure the game integrates well. Halo Infinite will support in-game Discord server invites and even Razer Chroma RGB support with unique lighting effects.