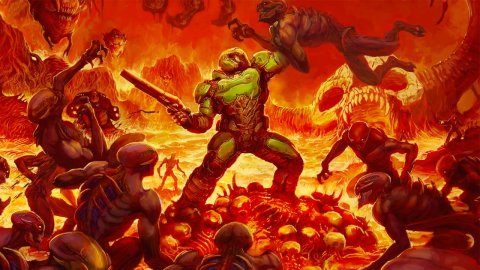 id Software
is working on
an action FPS based on a long and iconic series, based on recent job announcements, which obviously makes us think of Doom or Quake, which could represent without too much surprise the next project by the specialized development team in shooter.
In particular, id Software is looking for a Senior Technical Animator, a Skybox Artist and an Environment Concept Artist as open positions, with some further details emerging from the job descriptions in question.
DOOM Eternal, a game scenario Apparently, candidates must work on "visualizing and implementing triple A quality sci-fi and fantasy settings and skyboxes".
The contemporary mention of science fiction and fantasy then returns among the characteristics required of candidates, who should have experience in "fantasy and science fiction artistic styles", thus suggesting settings that have to do with elements from both styles together.
In fact , both Doom and Quake could fit into such a description, although Quake is perhaps the closest to classic fantasy of the two, in any case they are characteristics that seem to refer to both. The other element that emerges is the fact that it is a game belonging to a "long and iconic series of FPS action", another description that could apply to both titles in question.
Considering that DOOM Eternal came out in 2020 and has already got two big-caliber expansions, next-gen upgrades
for PS5 and<
/a> Xbox Series X
and right now also the new update with Horde Mode and other news, perhaps you could be more inclined to think that the next id Software's game may be Quake, which has been missing from the scenes for a longer amount of time, beyond the remastered version launched for the 25th anniversary.
Source Did you notice any errors?