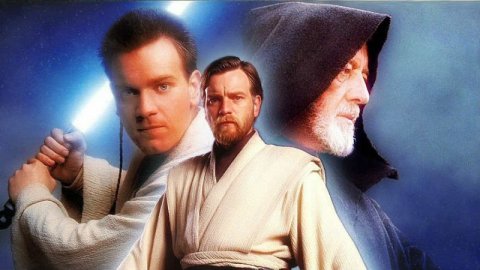 Star Wars
Filming on Disney's Star Wars TV series starring Obi-Wan Kenobi came to an end last month. With post-production work still underway, Star Wars fans will get their mouth watering for Ewan McGregor, the actor who plays the Jedi Master, who said the TV series won't disappoint. expectations.
"We finished shooting our series, and it was very, very fun. I enjoyed working with Deborah Chow (director of Obi-Wan Kenobi's TV series). I think she won't disappoint you." McGregor tells Variety to microphones.
"I had a lot of fun making it and I worked with some wonderful people, lovely people. The new technology we used to do it is fantastic, and it was a different experience compared to the three previous films I took part in ".
McGregor, for the uninitiated, has played Obi-Wan Kenobi since 1999's Star Wars: The Phantom Menace and has returned to cover the role in the new Disney project as well.
The series TV will follow the
adventures of
the Jedi during his exile on Tatooine, which took place between the events of Star Wars: Revenge of the Sith and Star Wars: A New Hope. At the moment Obi-Wan Kenobi's show doesn't have a release period yet.
Meanwhile Marcia Lucas has harshly criticized J.J. Abrams and Katheleen Kennedy in the latest Star Wars trilogy.
Source Did you notice any errors?
---
Star Wars game by Quantic Dream will reportedly feature an open world, action gameplay, and multiplayer
Rumor mill: Online denizens may have noticed rumors last week of a Star Wars game being developed by an unlikely studio: Quantic Dream, famous for cinematic, QTE-packed titles such as Heavy Rain, Beyond: Two Souls, and Detroit: Become Human. Now, we hear that its upcoming journey into a galaxy far, far away will include traditional action gameplay and possibly feature an open world along with multiplayer elements.
YouTuber Gautoz (via VGC) started the rumor on September 16 when he claimed the studio had made a deal with Disney for a Star Wars game following the end of Quantic Dream's three-year exclusivity deal with Sony.
Another report, this one from DualShockers, backed up the claim, adding that the game has been in development for 18 months. Perhaps tellingly, Quantic Dream's official Twitter account Liked an article about the report.
Quantic Dream is well-known for making a certain type of game: fairly linear, plenty of quick-time events, lots of decisions-with-consequences. Its love of interactive storytelling earned it several appearances on our Most Watchable Games for Non-Gamers list. The prospect of a Star Wars title made in a similar mold might not appeal to everyone, but it seems that crowd has little to worry about.
Kotaku has spoken to a third source with knowledge of the game's development, who claims it will feature more traditional gameplay. However, Quantic Dream's aging proprietary game engine and development tools aren't particularly suited to making this type of title, so it's been an uphill struggle.
Studio founder David Cage previously said he would not be averse to making an open-world game, and several job listings on Quantic Dream's website suggest this is the route it is taking, but there's no specific mention of Star Wars.
DualShockers writer Tom Henderson earlier tweeted that we might not have long to wait for the first official announcement of Quantic Dream's Star Wars. He writes that animation studio Unit Image, which created trailers for God of War, Far Cry 6, Death Stranding, and many more, is working on a teaser, pending Disney's approval.