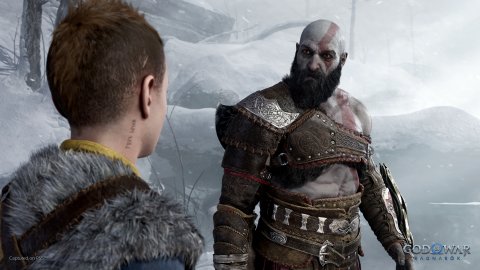 God of War
God of War
: Ragnarok will conclude the Norse saga to avoid lengthening the story of Kratos and Atreus too much and not to spread it over three games, which overall could take fifteen years to develop, according to the words of Cory Barlog. >
The YouTube channel Kaptain Kuba has published a video interview with Eric Williams and Cory Barlog, respectively
game director and
creative director
of God of
War: Ragnarok. When asked "why do you think ending the Norse saga in two games was the best choice?", We learn that the decision was made by Barlog, to avoid it taking 15 years to finish a single story.
"There are various reasons, I think one of the most important is the fact that the first game took five years, the second ... I have no idea how long it will take, but I think it will be a similar time. third third chapter with the same timeline, then we're talking about a time frame of close to fifteen years for a single story. I think that's too much. And considering where the team and Eric (Williams) are now and what they plan to do. do ... I thought we could end it all with a second story. "
Barlog adds that the team's goal from the start is to tell the story of Kratos and Atreus and that" the epicenter of the engine of the story is precisely the relationship between these two lost naggi ". In his opinion it would have been possible to create a third episode, but this would not have brought benefits, on the contrary it would have risked watering down the plot. An all in all acceptable choice, given the importance of the narrative component in the "second incarnation" of God of War.
God of War: Ragnarok, Kratos and Atreus However, to be a little mischievous, from the words of Barlog the release period of God of War: Ragnarok, currently scheduled for a generic 2022,
may not be
so sure.
Williams recently explained that the combat system of the new chapter has been made more varied and with a greater focus on verticality.
Have you noticed any errors?
---
Why God Of War's Norse Saga Will End With Ragnarok
Sony
God of War Ragnarok's preview at Sony's recent PS5 showcase was well-received, but didn't reveal a ton of new info past "this very much looks like a sequel to God of War," which is all anyone really wanted to see. But one note that did stand out was the news that Ragnarok would actually be the end of the Norse saga of God of War, concluding this chapter for Kratos and Atreus after just two games.
It's a far cry from what we saw in the original Greek mythology-based God of War series, where Kratos murdered gods and titans across three mainline games and other sub-adventures, while his journey into the Norse realm will be over after encountering just a handful of legends from that pantheon.
Cory Barlog explained why this was the case in a recent interview:
"One of the most important reasons is that the first game took five years. The second game is going to take close to a similar time to do this. A third one? We're talking a span of close to 15 years on a single story, and I feel like that's just too stretched out."
Barlog goes on to explain that the core of the story is about Kratos and Atreus, and they felt like they could conclude that tale in two games without expanding "ripples in a pond" to an entire ocean's worth of storytelling.
This speaks to how much game development has changed in terms of budget and years invested. The original God of War came out in 2005. By 2013, we had God of War 2, 3, Chains of Olympus, Ghost of Sparta and Ascension. Now, rather than selling a new God of War sequel or spin-off every 2-3 years, Sony Santa Monica is taking great care to invest a ton into just…two core games in ten years, and end that saga there before moving on. The nature of the series has changed, game development and goals have changed for them along with it.
Of course, this isn't to say God of War will be over for good. It's far and away one of PlayStation's most valuable IPs, particularly after how well-received the reboot was. Obviously a move forward could be Kratos moving on to a different collection of gods, or perhaps it could be something no one sees coming. But fundamentally, I don't think fans need three full sequels and three spin-offs in order to fully explore "Norse Kratos," and this ultimately seems like the right call being made here, even if we rarely see sagas end in anything less than a trilogy.
Follow me on Twitter, YouTube, Facebook and Instagram. Subscribe to my free weekly content round-up newsletter, God Rolls.
Pick up my sci-fi novels the Herokiller series, and The Earthborn Trilogy, which is also on audiobook.