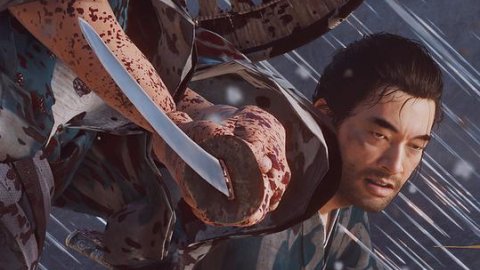 With the arrival of
Ghost of Tsushima
: Director's Cut,
PlayStation
players have begun to venture into the Isle of Iki, the protagonist setting of the new expansion of the same name, facing new enemies and discovering new secrets. Among them is a nice easter egg and an armor set that pay homage to
God of War
and Kratos.
The homage in question was found in the Shrine of Ash, located on the east side of the island. In the center of the area, the most attentive will notice a tree with the gold-colored mold of a hand on it and an ax stuck, as
you can see
in the image of the tweet below. Those who have played the Santa Monica action will certainly connect the tree to the opening scene of the game, when Kratos cuts down a virtually identical one with his ax.
It's not the only God of War homage from Ghost of Tsushima. In fact, in the same area there are chains that recall the Blades of Chaos and a series of cryptic documents that refer to Kratos and his son Atreus. Not only that, by equipping the Sakai Clan set and swiping your finger to the right on the touchpad of the controller with Jin in front of the statue located next to the aforementioned tree, a short cutscene will start, at the end of which the players will receive an armor set that pays homage to Kratos . Here is a video showing how to unlock it:
Ghost of Tsushima: Director's Cut is available for
PS5 and PS4<
/a>
. This edition includes a number of graphics upgrades for Sony's new flagship and additional content, including the Isle of Iki expansion. If you haven't already, we recommend that you read our Ghost of Tsushima: Director's Cut review.
Source Did you notice any errors?