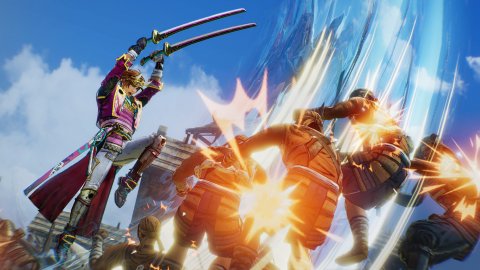 Samurai Warriors 5
Japanese publisher Koei Tecmo has released the Samurai Warriors 5 PC demo on Steam. As you will understand for yourself, you can now try the game before buying it. Please note that it is not yet available, so this is an optimal situation. The demo is also available for
PS4
on the
PlayStation
Store.
The demo weighs just over 4GB and can be downloaded from the Samurai Warriors 5 Steam page. Of course, you must have an active, unrestricted Steam account to try it out. The demo version includes the opening part of the story. Progress made can be carried over to the final paid version.
Read more details from the official game description:
After seven years of waiting, here is finally a
new episode of
the tactical action series "SAMURAI WARRIORS"!
The historical period described in the first title of the series "SAMURAI WARRIORS" originally released in 2004, is revived in a new updated version.
Compared to the first "SAMURAI WARRIORS"
the game is
enriched with a much more advanced graphics, new officers and new action. all against the dramatic background of the war between the warring states.
Special attention was paid to the life of Nobunaga Oda and Mitsuhide Adechi with the aim of illustrating more clearly the era of the warring states from end of the Ōnin War at the Incident at Honnōji. This title marks the beginning of a new series in which the stories and characters of the original "SAMURAI WARRIORS" are revived in a new updated version.
Features of "SAMURAI WARRIORS 5"
■ Old officers in updated version and new officers for a total of 27 Samurai Warriors ready to battle
Officers such as the young Nobunaga Oda and the daimyō Yoshimoto Imagawa, nicknamed respectively the "Great Fool" and the "Greatest Archer in all of Kaidō" are re-proposed with completely renewed graphics in line with the characteristics of the new title New officers such as Toshimitsu Saitō, servant of Mitsuhide Akechi and Kōga ninja Mitsuki also appear, ready to go into battle. 27 Samurai Warriors intertwine their fates in the dramatic era of the warring states.
■ More intense and thrilling WARRIORS action than ever
Once again, players
will be able to
experience "the thrill of putting enemies to flight", a true trademark of the WARRIORS series.
Thanks to the new actions added, not to mention the backgrounds and atmospheres that give the title a typically Japanese elegance, WARRIORS actions become even more amazing.
Have you noticed any errors?
---
Samurai Warriors 5 Giveaway – Win One of Three Copies for PS4, Switch, Xbox, or PC by Sharing Your Comments
News
Koei Tecmo is about to release Samurai Warriors 5 and you can celebrate the upcoming launch together with a brand new giveaway.
Published on July 20, 2021 Giuseppe Nelva
Koei Tecmo is about to release Samurai Warriors 5 and we can celebrate the upcoming launch together with a brand new giveaway.
With this giveaway, you can win one of three PS4, Nintendo Switch, Xbox, or PC codes for the game, kindly offered by Koei Tecmo.
The way to get involved is really, really easy.
All you have to do is comment on our articles, everywhere on the site. The more you comment, the better your chances. We want to hear your opinions and insight, and there is no better way for that to happen than sharing your comments with us.
An important caveat is that comments on this post are not eligible for the giveaway. Of course, you're welcome to comment here, but in order to participate, you need to comment at least on one other article.
On July 27 at 11:59 pm EDT we'll randomly select three comments made after this post has been published, and the authors of these comments will win a digital download code for Samurai Warriors 5.
Of course, spam comments and throwaway one-liners will be disqualified, as we'd like to promote interesting commentary and conversations among our readers.
The winners will be able to select platforms and regions between PS4, Nintendo Switch, Xbox, and PC (via Steam), North America, or Europe. IMPORTANT: due to code availability issues, only European copies of the Switch version will be offered. You can still play it anywhere, but you'll need a European Nintendo account.
As a bonus, since one of the copies of Ninja Gaiden: Master Collection in our previous giveaway was not claimed, we'll be selecting a fourth winner for this giveaway who will get that (one digital copy of Ninja Gaiden: Master Collection), with the same selection of platforms and regions available.
Once the winners have been drawn, I will respond to the winning comments, and we'll also publish links to them in an update to this post. At that point, you should respond to my comment, and at the same time, send me a mail at [email protected] indicating your Disqus nickname and your platform/region of choice. The timing is important, as it'll prove that you are indeed the winner.
If a prize isn't claimed within three days of the announcement, we will proceed to draw another winner.
Once more, do keep in mind that comments on all articles on Twinfinite (excluding this one) are valid to enter this giveaway. The more you comment, the more chances you have to win.
If you'd like to know more about Samurai Warriors 5, you can enjoy my hands-on preview and the gameplay I recorded for your perusal.