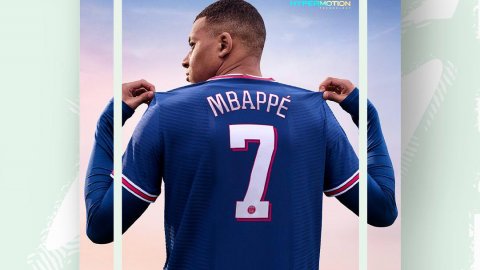 FIFA 22
EA
has announced
that Lele Adani, the famous TV commentator and former
football
er, will do the Italian commentary of FIFA 22 alongside Pierluigi Pardo. Adani was cast for this role based on his experience and knowledge of the playing field, and his style as an energetic and engaging commentator.
EA explains that "Adani will offer his experience both as a professional footballer and as a television commentator. Adani's unmistakable style, which emphasizes the prowess of the players and pays particular attention to the dynamics of the field, is a natural choice for the experience that HyperMotion brings. "
Lele Adani said:" I am very happy to announce the start of my
collaboration with
EA SPORTS
starting with FIFA 22. To be the voice of the technical commentary for the most prestigious and authentic football video game makes me very proud. I will devote myself with all my enthusiasm and passion to provide an innovative commentary that combines the technical aspect and the feeling for all fans of FIFA and, in general, of ours beloved football ... Vamos! "
Alongside Lele Adani will be Pierluigi Pardo, confirmed for his eighth consecutive season as the voice of the FIFA 22 commentary. Pardo says: "I am delighted to have extended my relationship with EA SPORTS. Being the voice Official FIFA 22 is an unparalleled recognition and also a lot of fun since, albeit with modest results, I am a player. Lele's arrival is great news and I can't wait to pair up with her unique style and his passion. We will have fun! ".
Maurizio Finocchiaro, EA Country Manager for Italy, said:" Lele Adani is an iconic personality in the world of football and her experience as a top player level, and now as an incredible commentator, he will add great value. This year's title will bring the most authentic and realistic experience ever, and we are thrilled to add Lele's expertise and insights to the Italian version of FIFA 22 ". br>
We point out in end the new FUT Heroes
confirmed by
EA, with other champions from the past. Also, we advise you to read our special: eFootball Vs FIFA 22: the preliminary comparison.
Have you noticed any errors?
---
FIFA 22: No pre-order bonuses for Nintendo Switch players
FIFA 22 will only offer the Legacy Edition for Nintendo Switch players, the developers have confirmed.
The virtual football series is due to receive an all-new look as EA look to replicate the real-life 2021/2022 campaign across multiple leagues across the world.
The American organisation announced, with some fanfare, that their latest creation will contain 'HyperMotion' technology, which is designed to replicate player movement, passing and shooting much more accurately than in previous games.
While this gameplay innovation could transform the way that we look at games, EA confirmed that this would only be available for PlayStation 5 and Xbox Series X/S gamers - not even PC players will get a chance to test the new features.
That being said, questions have been asked regarding the Nintendo Switch version, with last year's edition receiving awful reviews from the likes of Metacritic.
Read more: FIFA 22: Release Date, Cover, News, Career Mode, Gameplay, Cross-Platform, PS4, Xbox One, Nintendo Switch And Everything You Need To Know
Similar to the trend we have been with PC players, Nintendo Switch gamers, with the Legacy Edition, will also not get the chance to sample HyperMotion.
Effectively, this edition of FIFA 22 will have the same innovations from FIFA 20 and 21 without any significant enhancements added. But the good news is it will come at a lower price of £39.99.
Despite this, Ultimate Team, Online Seasons, special player items and live updates to kick-off squads will be provided but the game will effectively be a re-skin from the previous two titles.
It must be frustrating for Switch players that they will almost be playing the same game as last year. But because the next-gen consoles are still so new, it may be a year or two until we see the technology added to Nintendo's handheld device. Here's to hoping.
You can find all of the latest Esports and Gaming News right here at GiveMeSport.
next story