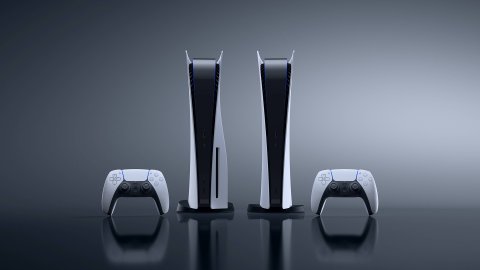 PS5 at 10 million
PS5
has surpassed 10 million sales in the world, according to data reported by GamesIndustry and confirmed by the company itself, and refer to it as the fastest-selling
Sony
console in history, or best-selling in the time frame taken into consideration.
According to reports from the British site, PS5 reached 10 million units sold on 18 July 2021. The performance of the console on the market, however, remains highly dependent on availability, considering that PS5 is in a state of sold out practically constant, with difficulty in maintaining an adequate supply of units on the market.
Demand, in short, still exceeds the actual supply of consoles in stores, therefore the quantity of units sold is spoiled by a situation of constant difficulty in supplying stocks. It is therefore easy to predict that the numbers could be higher if PS5 were easily available on the market.
For this reason, as reported by Jim Ryan recently, increasing stocks on the market remains the top priority for Sony with PS5. The CEO of Sony Interactive Entertainment also stated that on the new console there are record levels of "involvement" by users, the highest ever recorded even compared to
PS4
.
We are therefore talking about great success in PS5 usage in terms of monthly active users and time spent online playing the console. While not going into details with precise numbers, Ryan also pointed out that China, among the different markets in the world, is showing great interest in PS5, emerging as a rapidly growing market also on the console front.
At the same time, Microsoft has also reported in the past few hours that
Xbox Series X
and S are the Microsoft consoles sold faster than ever, but as usual without providing precise data in this regard. Sony's latest figure dates back to April and reported 7.8 million consoles sold.
Source Did you notice any errors?
---
Sony's PS5 outstrips predecessor with 10 mln units sold since Nov launch
PS5 is Sony's fastest selling console
'Some time' from being able to meet all PS5 demand -gaming chief
Chip shortage remains a 'challenge' -gaming chief
Sony sees PS5 sales of at least 14.8 mln units this fiscal year
TOKYO, July 28 (Reuters) - Sony Group Corp (6758.T) said on Wednesday its PlayStation 5 (PS5) gaming console has sold more than 10 million units since launching last November, outstripping sales of its predecessor even as the Japanese firm grapples with a global chip shortage.
The PS5, which offers cutting edge graphics and faster loading times than the PS4, is in short supply as the COVID-19 pandemic strains global semiconductor supply chains while demand has risen amid a gaming boom with more people staying indoors.
'We've built more PlayStations faster than we ever have before which makes me happy. But on the other hand, we're some time from being able to meet all the demand that's out there, which makes me feel bad,' Sony Interactive Entertainment CEO Jim Ryan told Reuters via email.
'Our partners are performing really well for us, but the chip shortage is definitely a challenge that we are all navigating,' Ryan said.
Boosted by exclusive games likes Marvel's Spider-Man: Miles Morales, which has sold more than 6.5 million copies, PS5 sales have outstripped the PS4.
It took Sony around nine months to sell 10 million units of the PS4, which had a staggered launch. More than 100 million units of the console have been sold since November 2013.
Electronics makers warn of deepening semiconductor shortages, with Apple (AAPL.O) on Tuesday saying the shortfall is affecting iPhone production. read more
'Sony's deep expertise in supply chain management for consumer electronics has enabled it to weather the worst impacts of the pandemic even during the launch of a new product,' said Piers Harding-Rolls, head of games research at Ampere Analysis.
Sony sees demand for the PS5 continuing even as vaccinations spur easing of curbs on going out, Ryan said.
A strong games slate will be crucial to maintain momentum amid competition from Microsoft's (MSFT.O) rival Xbox device, analysts say.
Another first-party title for Sony, Ratchet & Clank: Rift Apart, has sold more than 1.1 million copies since its release last month. First-party titles refer to games from companies that are owned by the firm making the console.
The group forecasts PS5 hardware sales of at least 14.8 million units in the year through March. read more
Reporting by Sam Nussey; Editing by Himani Sarkar
Our Standards: The Thomson Reuters Trust Principles.