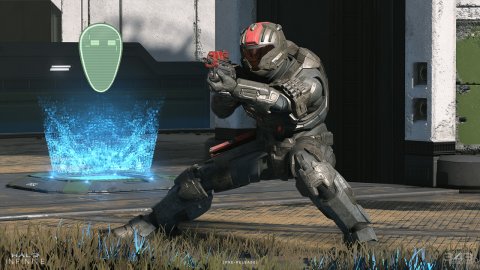 Halo Infinite
Technical beta, by definition, is a test that developers need to improve and fix their games before release. Despite this, it is surprising that a game like Halo Infinite, born to run on
Xbox
One, still struggles even on PC. Tom Warren and other people who are trying the game on a PC, however, are testifying that there is still a lot of optimization.
According to the senior editor of The Verge, in fact, the technical beta of Halo Infinite would struggle to run at 1440p with an
RTX 3080 Ti
. Because it is true that it exceeds 100 frames per second, but it does so with low settings, using a card designed for 4K gaming with ray tracing enabled.
"The performance of Halo Ininite on
PC is not
very good for the moment, "Warren writes on Twitter. "It's a technical preview, so a lot of optimizations will come, but at the moment I can only get 100fps + at 1440p (with an RTX 3080 Ti) at low settings."
His experience comes in response to another person struggling to achieve "decent frame rate" with an
RTX 3090 and
medium settings. Obviously 343 Industries has plenty of time to optimize the personal computer code, but it is still strange that such powerful machines and graphics cards, able to run Flight Simulator at high settings in a more than satisfactory way, struggle with a game that should run. smoothly even on an old Xbox One.
Some say that it is still a few months old built and that the 343i itself would have warned of possible problems. Are you playing with it? What is your experience?
Have you noticed any errors?
---
The 'Halo Infinite' Technical Test Is Having Technical Problems
Halo Infinite
343
This weekend, Microsoft is hosting the first technical test for Halo Infinite with invites given out to a select group of players that have their hands on the game for the first time.
This is not an alpha or a beta, it's a technical flight, and as such, players are running into some technical problems that will need to be corrected by Halo Infinite's launch.
The entire test got off to a late start as 343 ran into some server issues that needed a whole lot of urgent work to get the entire thing online. It went live late yesterday evening, and players have been trying it out, if they can get in, ever since.
I've seen many positive impressions of the actual gameplay so far, though one persistent issue seems to keep cropping up: low PC performance.
Players are reporting lower than expected performance, given the capabilities of their machines, and low GPU usage. Here's The Verge's Tom Warren:
Of course, it is not unexpected for a technical flight to run into technical issues, and this is the reason these tests happen in the first place, so the game doesn't actually launch in this state. Halo Infinite still does not have an exact release date for this holiday, but most expect it some time in November, meaning there's still a few months until it's live, and no doubt more tests to come after this.
There are a host of bugs and issues you can peruse through on this thread that features hundreds of comments about what's going wrong with players' own individual tests. Performance issues are by far the most common issue, but there are others with audio-cut off, settings not saving on restart and infinite loading screens.
Again, I don't necessarily think any of this is cause for concern. A technical flight like this is supposed to root out issues and not be reflective of the final product. The hope is that 343 will be able to get a handle on especially the performance issues by launch, as I wouldn't imagine they would launch if the game remained in this state.
When the game works, everyone seems to be having a lot of fun with it. I'd still expect a successful launch when that comes around, and hopefully these issues can be sorted soon.
Follow me on Twitter, YouTube, Facebook and Instagram.
Subscribe to my free weekly content round-up newsletter, God Rolls.
Pick up my sci-fi novels the Herokiller series, and The Earthborn Trilogy, which is also on audiobook.