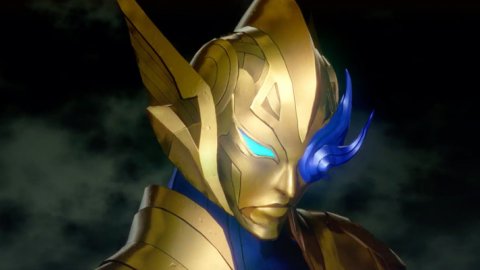 Shin Megami Tensei V for Nintendo Switch
Shin Megami Tensei V
for Nintendo Switch
is the protagonist of another leak mainly concerning elements on the history and gameplay of the game, deriving from some updates made to the official website and which apparently emerged online ahead of time.
The
release date is
also reiterated on this occasion, which had emerged previously set for 11 November 2021, then awaiting the official announcement that should probably arrive during E3 2021, perhaps during the Nintendo Direct set for June 15 at 18:00 CET.
Shin Megami Tensei V is set in a world called Da'at Apparently, two different editions of the game are planned in Japan with the standard priced at 8,890 yen and a "Forbidden Nahobino Box" at 14,800 yen, but clearly on this aspect
it is likely
that there are variations with the Western editions.
As for the story, other details have emerged that could however represent exempt spoilers, so in case we warn before continuing reading, although these are very vague elements.
The protagonist is a high school student who lives a normal life, until he finds himself projected into a world alternative called "Da'at" following a certain unidentified incident. After merging with a mysterious man, he becomes a Nahobino, which is a forbidden being who finds himself fighting against gods and demons.
The world of Da'at is covered by the desert and inhabited by superhuman entities such as gods and demons, of various shapes and sizes, with some being good but many others evil and aggressive towards the protagonist. In the strange world in question we will meet over 200 demons, some of them designed by Masayuki Doi.
The protagonist can choose different actions to progress and to face the demons, with different paths that can be taken to advance in the game and which can lead to different endings. Being a Nahobino, he has special powers that can be used in various ways and the use of which affects progression.
Source Have you noticed any errors?
---
Shin Megami Tensei V release date accidentally leaked by Atlus
Shin Megami Tensei V looks like it's coming to the Nintendo Switch on November 11. The release date appears to have accidentally leaked on the official Japanese website for Shin Megami Tensei V.
Shin Megami Tensei is a long-running Japanese roleplaying game series by Atlus that is actually the predecessor to its hit series, Persona. Many of the games in the series are considered cult classics, including the recently remastered, Shin Megami Tensei 3: Nocturne.
The game's website was mistakenly updated with information containing the release date, gameplay, and story details. Persona Central, which originally caught the leak, notes that the November 11 launch is expected to be a worldwide date, despite only appearing on the game's Japanese website.
The leaked details state that the main character of the game will be a high school student that wanders into a demon-filled desert world called "Da'ath." They fuse with a mysterious man and become the forbidden being called a "Nabino." This leads the hero into the middle of a battle between gods and demons … a standard affair for the world of Shin Megami Tensei.
The game will reportedly feature over 200 demons, including returning favorites and new creations drawn by Masayuki Doi, a longtime character designer for the Persona and Shin Megami Tensei series.
Like SMT titles before it, the gameplay involves the hero advancing through this new world by using their new demonic powers and gathering a party of demons to assist them. The leaked details note that the game will have multiple endings like previous games in the series.
A limited edition was also confirmed by the leak, but it isn't known if it will be released outside of Japan.
Editors' Recommendations