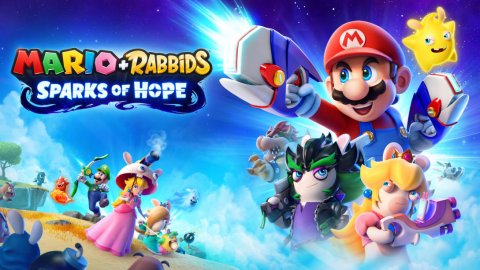 Surprisingly,
Nintendo
has published on its website, let's imagine by mistake, the official page of Mario + Rabbids Sparks of Hope. In other words, it is the highly anticipated sequel to the
Ubisoft
Milano game. A game that, in all likelihood, should have been presented at the Ubisoft E3 2021 conference today.
The Mario + Rabbids Sparks of Hope cover image The game, as we can see on the Nintendo.com website , takes up the style of the highly successful strategy released
for Nintendo Switch
a few years ago and evolves the formula inspired by Super Mario Galaxy.
The game page says that Mario + Rabbids Sparks of Hope will be available in 2022. Nintendo describes the game as follows: Team up with Mario, Luigi, Princess Peach, Rabbid Peach, Rabbid Luigi and their friends on a galactic journey to defeat a malevolent entity and save your fellow Spark. Explore planets across the galaxy and uncover mysterious secrets and challenging missions!
Key features are:
Build your dream team with three heroes from an eclectic roster of nine. Defeat all new bosses, along with some familiar enemies, across the galaxy. Save the adorable Sparks, which provide distinct powers that will aid you in battle. Unleash the abilities of your heroes, but be strategic as you throw your enemies, team jumps and hide behind cover.
The game
will be in
Italian, of course.
Ubisoft's misfortune and E3 leaks have now become a classic of this kind of events. At this point, however, we have one more reason to follow tonight's Ubisoft conference.
From these images you can also see the camera change during the exploration phases, which seems free and much more Mariesque. Do you think Davide Soliani is crying right now?
Source Have you noticed any mistakes?