Trials of Mana: over one million copies sold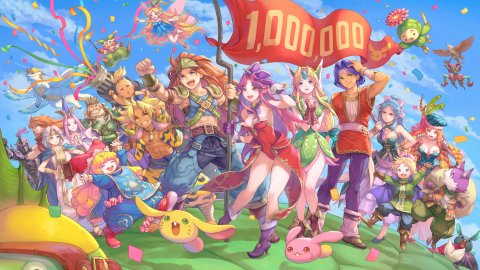 Trials of Mana
Trials of Mana: artwork to celebrate one million copies sold The Japanese action role-playing game Trials of Mana has sold more than a million copies, both physical and digital. This was announced by the publisher Square Enix, who commissioned a celebratory artwork for the occasion (the one you find at the head of the news). As this is a remake and not a completely new product, it is an excellent result, which justifies other operations of the kind.
Read more details from the official press release:
Trials of Mana is a high definition remake of the third installment of the Mana series, originally released in Japan in 1995 as Seiken Densetsu 3. The game is an unforgettable adventure with thrilling gameplay and memorable heroes and enemies. Players will create different experiences by forming a team of three unique characters among the six proposed and will leave for an incredible adventure in which they can improve the classes of their characters up to more powerful forms, learn more than 300 different skills and discover a world full of secrets and mysteries. In addition, a new playable chapter that was not present in the original version
will be available
after the game ends, where players will
be able to
unlock new classes and face a new, powerful threat.
To celebrate the 25th anniversary of the original game, Patch 1.1.0 was recently released, which includes various updates and new additions, including "No Future" difficulty level, new options for the New Game Plus and more.
Before leaving, we remind you that Trials of Mana is available
for Nintendo Switch
,
PS4 and PC
(Steam). For more information, read our Trials of Mana review.