Starfield: A charity initiative allows you to draw a character and win an Xbox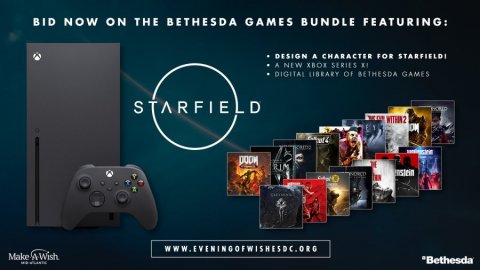 Starfield
Through Twitter, Bethesda announced a new charity initiative linked to Starfield created in collaboration with Make a Wish. The one who wins the auction will have the opportunity to design a new Starfield character, an
Xbox Series X
and Bethesda digital games.
At this address you can find all the details and place your bid.
We know very little about Starfield, but for a few hours we have known that Bethesda's mysterious "space game" is at the center of a beautiful initiative created in collaboration with Make a Wish. Bethesda will give whoever wins his auction win an Xbox Series X and a long list of Bethesda digital games. The most interesting thing, however, is the possibility of designing a character that will then end up in the expected game.
This is a commendable initiative, which for us gamers has a double interest: the fact that Starfield-related activities begin to show up could mean that Bethesda is almost ready to launch the game's marketing campaign and, consequently, show it to the general public.
The latest rumors claim you play as Starfield and The Elder Scrolls 6 will be in the Xbox event on Bethesda, which is the conference that the Redmond giant should hold once the acquisition of Bethesda is completed. Could there be any truth?
---
'Starfield' Release Window Leaked; More News Coming At Bethesda Event In Mid-March
KEY POINTS
'Starfield' is the upcoming space-themed title from Bethesda
A new claim believes the game will be released this year
Microsoft reportedly will hold a Bethesda event next month
There were a lot of rumors surrounding the release window of 'Starfield,' but if the latest claim from an industry insider is to go by, it seems that fans could get finally get their hands on the space-themed title sometime this year.
The claim came from a discussion thread on ResetEra courtesy of insider NateDrake who notes that as of a few months ago, 2021 is the target release year of ' Starfield.' The insider believes that the 2021 release is always on the cards, but COVID-19 introduced several development challenges. However, there is still a chance that Bethesda could delay the game's release, the insider adds.
However, the insider is not at all certain about this release window. In a follow-up post, he admits that "I'm not saying it'll 100% for certain happen; but, as of late last year, I was hearing the goal was to launch this year. But it is a Bethesda game, and delays or issues may arise to prevent the release from coming'.
At this year's E3 exhibition , Bethesda Studios officially announced 'The Elder Scrolls 6' and 'Starfield' Photo: steamXO/flickr
Last year, there were rumors that 'Starfield' could release in the latter part of 2021. Bethesda remained silent about the game for a long time, but the industry is used to the studio's quick turnaround for their game launches. In 2018, the gaming studio announced the game as its first IP in more than a couple of decades.
While the latest claim is interesting, fans should temper their expectations and treat this with a pinch of salt. Meanwhile, Microsoft is apparently planning to hold some sort of event sometime in March 2021. In his podcast, industry insider Jeff Grubb confirmed that the event would outline the Redmond-based tech company's plans for Bethesda.
The insider was later asked if there would be some Bethesda-related announcement after Microsoft acquired the gaming studio's mother company. 'Yeah, I think they're gonna have an event for this. Leading up to E3, I think this is one of the milestones for Microsoft. Once the deal closes, they will talk about it in a big way. I don't know if it'll be like a full direct style event, but they will make a note of it, and they will talk about it extensively and explain what it means to everybody and kind of talk about the immediate future for both companies,' Grubb claims.
If the Bethesda event is really happening, 'Starfield' and even 'The Elders Scrolls 6' fans will hear more details about their favorite titles.