GTA Online: The Cayo Perico Heist, 50% extra cash during the final heist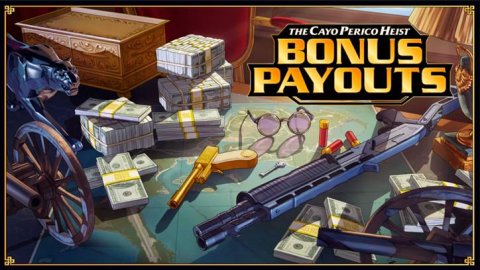 GTA Online is
the protagonist of a new promotional initiative by Rockstar Games, in this case concerning the 50% of extra revenue that can be obtained these days during the final heist of The
Cayo Perico Heist
.
In this at the weekend it is therefore possible to maximize profits on the beaches
of Cayo Perico
, with zero preparation costs and 50% more GTA $ and RP during the final shot, both alone and in company. Among the other promotions,
there is also
the -25% applied to the price of the Kosatka submarine, which can also be used as headquarters for planning operations.
Among the other initiatives underway these days, also present the Mammoth Squaddie mode, which recalls the game of toy soldiers but in real size within the world of GTA Online, with armored vehicles to drive in various types of races. There are also triple GTA $ and RP in races for Issi Classic with cars of this type to be used in the race until February 10 with triple earnings.
The first prize of the week is also an Enus Paragon R, which can be earned inside the Diamond
Casino
and Resort, previously reserved for those who had completed all missions in the casino's history in question. Other initiatives include discounts on vehicles to use for the assault on El Rubio such as the Kosatka submarine and various improvements, Issi Classic and amphibious vehicles, as well as exclusive discounts for Prime Gaming members on the Annihilator stealth helicopter and the Progen Tyrus.
Finally, GTA Online players who link their Rockstar Games Social Club account with Prime Gaming will receive a free sonar station for the Kosatka submarine and GTA $ 200,000 for playing anytime this week .
Meanwhile, GTA Online has posted record revenue with the Cayo Perico Heist expansion.