AMD: FidelityFX Super Resolution arrives in March, the answer to Nvidia's DLSS is almost here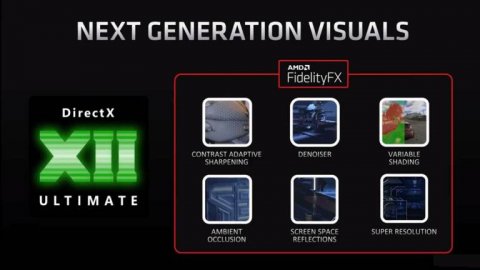 Although it is literally making giant strides both in the CPU and GPU fields, AMD still has several room for improvement, especially with regard to its gaming solutions. Those who are waiting for the implementation of the FidelityFX Super Resolution, in other words its version of Nvidia's DLSS technology, will have to wait a little longer, if these rumors are confirmed to be true. According to El Chapuzas Informatico, the American giant will launch its technology in the spring, more precisely in March 2021.
According to these rumors, next month AMD will publish a substantial update of its GPU driver management program, the Adrenaline Software, and two very important technologies will come with it: FidelityFX SR and Radeon Boost.
Radeon Boost is a technology that lowers the resolution of a frame of a moving object, so as to improve performance with minimal impact on graphics. This would be a solution that should improve the dynamic resolution: in this case, in fact, the resolution would be lowered only in action scenes and not even when the scene is static.
FidelityFX SR, on the other hand, thanks to the 'AI automatically manages to increase the level of detail starting from lower resolutions. In this way the image shown, as rendered, is very close to that of a native game, even though it has been calculated at a lower resolution.
According to the source FidelityFX SR is not directly part of the graphics drivers, but it works as an additional effect to be introduced in video games. All the graphics driver has to do is support the DirectML API. This difference is possible thanks to the Infinity Cache of the Radeon GPUs.
This technology will therefore be multi-platform, something that will also improve the performance of games on consoles equipped with RDNA-2 GPUs, but it can also be used on PCs equipped with Intel or Nvidia GPUs. Have you read our review of the
Rade
on RX 6800
?
Source