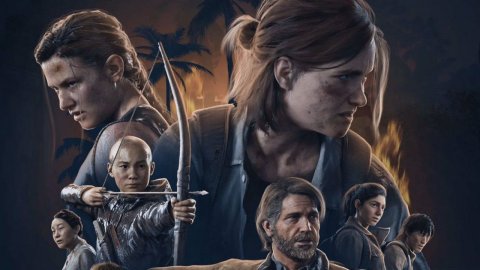 The Last of Us Day in two days
In a couple of days,
The Last of Us
Day will fall, a day dedicated to the
Naughty Dog
saga. Neil Druckmann, via Twitter, shared a themed gif, based on a famous meme customized for the occasion. This suggests that there should be some news.
The most credible options are two, as also suggested in the Twitter comments. There may be room for a new trailer for the HBO TV series dedicated to The Last of Us, of which we have already seen a trailer.
There may also be news for the multiplayer game, unnamed for now, but Druckmann had claimed that more details would come in 2023. The latter was last shown in June 2022 with an image you can see below. It has been indicated that
it will be
a very large game, set in a different location than the previous games, probably in San Francisco.
Artwork of the new multiplayer game from The Last of Us Some information about the game has been shared via rumors by Jeff Grubb, who suggests not to imagine the game as a Faction 2 (or as a new version of the multiplayer component of the first The Last of Us), but as a real modern live service.
The good thing is that you just have to wait a couple of days
to find out
what Naughty Dog has in store for us on The Last of Us Day.
Source Have you noticed any errors?
---
HBO's The Last of Us TV Show Trailer Almost Certainly Dropping Tomorrow
We've already seen a glimpse of HBO's hugely anticipated The Last of Us television show, but tomorrow could be the big day for the long-in-development adaptation. As existing fans will already know, 26th September is The Last of Us Day – or Outbreak Day as it was formerly known – which reflects the date of the cordyceps virus spreading within the franchise's lore.
And series creator Neil Druckmann and writer Craig Mazin have been building hype on social media. "It's two days until The Last of Us Day," the Naughty Dog vice president wrote on Twitter earlier in the weekend. "What will be this year?" He included a scientific meme of character Marlene, to which Mazin replied with a GIF of a shrugging Ellie. Something's almost certainly afoot.
The evidence mounts when you consider that HBO is currently running a brand campaign called 50 Years of First, which is designed to celebrate the broadcaster's five decades of ground-breaking television. As part of that, it's promising to show sneak peeks and first looks at some of its upcoming HBO Originals, of which The Last of Us is currently one of its flagships. It doesn't really take a genius to put two-and-two together here, does it?
In other related news, an official Twitter account for the TV show handled @TheLastofUsHBO has just been updated, and while there's no content on it just yet – well, you get the sense it's being readied for a big promotional push, don't you? At this point, we reckon this is a certainty – but let's wait and see what The Last of Us Day brings tomorrow, shall we?