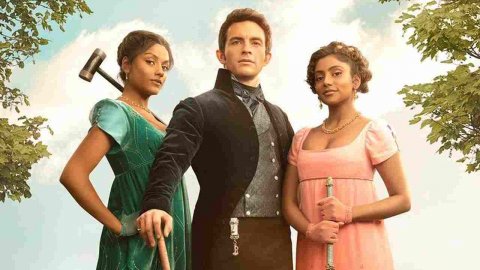 Netflix breaks lawsuit against Bridgerton's musical
Netflix has
withdrawn the lawsuit against the creators of "Unofficial Bridgerton Musical", before it even went to court.
"Unofficial Bridgerton Musical" is a project that went viral on TikTok and created by Emily Bear and Abigail Barlow. Initially Netflix had supported the couple and what they created on social networks, as it was only a tribute from a group of fans. Netflix wrote on Twitter: "Absolutely blown away by the Bridgerton musical taking place on TikTok. Standing ovation ...". Eventually, though, the couple expanded the idea in new directions and bounded into lawlessness.
After becoming a social media phenomenon, the couple released a full album of "Unofficial Bridgerton Musical" on Spotify and then began performing live, selling tickets starting at $ 150. Netflix then intervened
and everything
was resolved even before arriving in court: it was not indicated which agreement was made between the parties to end the case.
Four actors from Bridgerton The creator of the series Bridgerton, Shonda Rhimes, said: "What started out as a fun celebration by Barlow & Bear on social media has morphed into a blatant appropriation of intellectual property solely for Barlow & Bear's financial benefit. This property was created by Julia Quinn is brought to the screen thanks to the hard work of countless people. Just as Barlow & Bear would not allow others to steal their intellectual property for profit, Netflix cannot stand by and allow Barlow & Bear to do the same with 'Bridgerton' ".
At the time of filing the lawsuit, Netflix noted that it was contesting how the couple had created "multiple streams of revenue for themselves without formal authorization," using largely intellectual property of Netflix, and
revealed that
they "refused to cooperate" despite the streamer's interest in working with them.
Netflix not only spends time filing lawsuits but also announces
new details
about their shows , like the Onimusha anime.
Source Have you noticed any errors?
---
Netflix breaks lawsuit against Bridgerton
Netflix Sues Bridgerton Musical Creators for Copyright and Trademark Infringement
Bridgerton, for the uninitiated, is the Netflix hit series based on historical romance novels by Julia Quinn. Two creative professionals who first came to fame creating Tik Tok videos based on ...