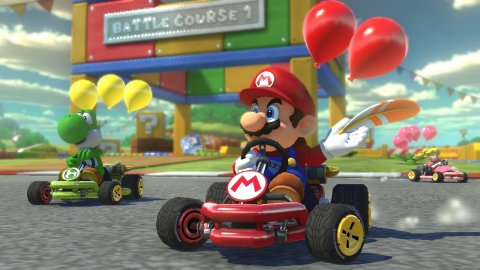 Mario Kart 8 Deluxe Seasonal Circuit Italy is about to return
Mario Kart 8 Deluxe Seasonal Circuit Italy
is about to
return with a second appointment: the date of the tournament is set for Sunday 2 October, from 7.00 pm to 9.00 pm, and to join the challenge just use the dedicated code 3194-3057-2587.
One of the best-selling games ever on
Nintendo
Switch, Mario Kart 8 Deluxe continues to engage its many fans thanks to events of this type, which offer numerous branded prizes and special rewards.
"Between doors and trajectories at the limit, fun is guaranteed for everyone thanks to the immediacy and intuitiveness of the gameplay of this unique racing game, which also allows beginners to try their hand at heart-pounding races in the company of their friends", reads the press release released by Nintendo.
"The competition, which
will be open
to all and comprising a total of three events, will continue until November 2022 and will also allow those who do not have the Pass additional courses to test yourself with the iconic tracks included in the DLC. To access the race, simply use the tournament code 3194-3057-2587 in the game. "
" Each stage of the Mario Kart 8 Deluxe Seasonal Circuit Italy will be self-contained and will see ten players triumphing, who will will share a series of unmissable prizes offered by LEGO and Big Ben Interactive as well as, for the first time ever, special rewards celebrating the competition. "
" Specifically, the top three finishers will receive respectively the Adventures sets of Peach Starter Pack, Luigi's Mansion Atrium and Yoshi's House of Gifts, while players up to eighth place will each be able to take home a Nintendo Switch Big Ben NNS50GR case. "
"In addition, for all ten best drivers
there will be
Seasonal Circuit branded prizes such as a jacket for the first classified, a metal case for the second step of the podium, a T-shirt for the bronze medal and caps for the remaining seven positions. "
" Finally, all participants, regardless of placement, will receive 50 platinum points that can be used within the My Nintendo program. Also the November appointment, which will conclude the competition will offer many other exclusive prizes, so fans will have the opportunity to participate in all the stages to increase their chances of winning and try to take home the title of Champion. "
Did you notice mistakes?
---
Peach Gardens and Merry Mountain coming to Mario Kart 8 Deluxe DLC
The third wave of DLC tracks for Mario Kart 8 Deluxe have been announced, at least in part.
Coming this holiday season, the eight new tracks will include Merry Mountain from Mario Kart Tour, offering a snow filled and festive vibe for the time of year. In addition to this, Peach Gardens from Mario Kart DS will also be made available on this wave's release.
You can see a little sneak preview of these two courses below.
Mario Kart 8 Deluxe DLC, third wave teaser.
For those keeping track (no pun intended, but a happy accident all the same), the announcement of these courses is in keeping with earlier Mario Kart 8 leaks.
Therefore, it should be easy to surmise the other six yet to be announced courses that will also be coming to Wave 3.