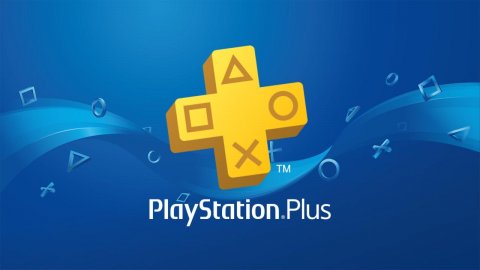 PlayStation Plus
Sony
PlayStation
offers a 50% discount on PS Plus membership for
PS4 and PS5
. The offer is active on the PlayStation Store, for the three-month cut, which can therefore be purchased for € 12.49 instead of € 24.99. The promotion is valid until February 13, 2022.
You can find
the promotion on PlayStation Store at this address. The offer is valid only
for those who
have not yet subscribed. If you are already a PS Plus member, you cannot make the purchase.
The PlayStation Plus logo PlayStation Plus offers a number of benefits, such as the ability to play online multiplayer, access to free games every month, exclusive discounts, exclusive and free add-on content packs, 100GB of cloud storage for game data and, on PS5, access to the PlayStation Collection and Game Help features (if present in the game, must be implemented by developers).
Today's offer is excellent for those interested in using the subscription for a few months, perhaps to play online games such as
Dying Light 2
or Elden Ring with friends, without having to invest money for a full year of membership.
We remind you that this month's free PS Plus games are EA Sports UFC 4 for PS4, Planet Coaster: Console Edition
for PS5 and
Tiny Tina's Assault on the Dragon's Keep : A unique adventure in Wonderlands for PS4.
Have you noticed any errors?
---
What Are the PlayStation Plus Free Games for February 2022 and How To Download Them?
The PlayStation Plus games for February 2022 have been revealed—and the line-up is pleasingly diverse.
For those who are unaware, Sony has two paid subscription services that users can access. PS Now is essentially the company's answer to Xbox Game Pass and hosts a library of exclusive titles. Here, you can find things like Uncharted 3 or The Last of Us and then stream them using cloud technology. You won't technically own any of these games though, and will need a decent internet connection for a smooth experience.
Meanwhile, PlayStation Plus is effectively a premium service that allows you to play online with friends or in public matches. Even if you have downloaded a free battle royale like Fortnite, you will need a PS Plus membership if you want to join any matches using a PS4 or PS5 console.
In that sense, PS Plus is the same as Xbox Live Gold or Nintendo Switch Online. You pay a monthly subscription fee and, in return, you can use the PlayStation Network (PSN) to engage in online multiplayer sessions.
Every month, you will also be treated to a few complimentary games. Unlike the ones hosted on PS Now, you can actually install these on your console's internal storage as well and keep them forever (provided that you download them before the end of the month).
Below are the free games that you can download between February 1, 2022, and March 1, 2022.
EA Sports
UFC 4 (PS4)Image shows gameplay from 'EA Sports UFC 4'. The title has a 'Strong' rating on Open Critic, with a top average score of 77. EA Games
EA Sports UFC 4 is an MMA simulator that allows you to learn the disciplines of boxing, wrestling, jiujitsu and kickboxing.
There are over 200 licensed fighters (based on real athletes) for you to play as, and you can also create your own for the in-depth career mode. In addition to this campaign, there is a suite of different multiplayer options for you to master.
The game was generally well-received upon launch in 2020, although it did garner some criticism for its unwieldy camera and dated visuals.
EA Sports UFC 4 has a 'Strong' rating on Open Critic, with a top average score of 77.
Tiny Tina's Assault on Dragon Keep: A Wonderlands One-shot Adventure (PS4)Image shows gameplay from 'Tiny Tina's Assault on Dragon Keep: A Wonderlands One-shot Adventure'. The game was originally a piece of DLC for 'Borderlands 2'. Gearbox Publishing
Don't confuse this with the other Borderlands spin-off that is due to come out later in 2022 (that one is titled Tina Tina's Wonderlands).
Instead, Assault on Dragon Keep is just a standalone rerelease of the old DLC that debuted way back in Borderlands 2. Given that it was originally just an epilogue chapter for a wider game, it only takes a few hours to complete the whole thing, but it is a fun experience nonetheless.
For the uninitiated, Assault on Dragon Keep has you sucked into the world of a tabletop RPG at the behest of the impetuous Tiny Tina (a dungeon master who keeps amending the rules on the fly). Think of it a bit like a gory, irreverent version of Jumanji, only with way more gunfire, swearing and explosions.
Planet Coaster: Console Edition (PS5)Image shows gameplay from 'Planet Coaster: Console Edition'. The game has a 'Strong' rating on Open Critic, with a top average score of 83. Frontier Developments
Planet Coaster is this month's PS5 game, so you won't be able to play it on PS4 (but you can still redeem your free copy for use in the future).
Developed by the same team behind Jurassic World: Evolution 2, this is a classic management sim. In it, you will get to manage the staff of your very own theme park, oversee the finances, check out the demographic reports, update the food kiosk menus and, yes, build elaborate roller coaster tracks.
Given their innate complexity and the sheer volume of menus that are often needed, these experiences are usually better suited to mouse and keyboard controls. However, the console edition of Planet Coaster simplifies a lot of the features from the PC versions and provides you with a more comprehensive tutorial to help ease you into the experience.
Planet Coaster: Console Edition has a 'Strong' rating on Open Critic, with a top average score of 83.
How To Download Free Games From PlayStation Plus
The new titles become available on the first day of each month and can be downloaded straight from the PS Plus menu on your PS4 or PS5.
To find this section of the dashboard, look for the yellow plus sign that is depicted in the screenshot below. On PS4, clicking on this icon will take you through to a separate page where you can download each of your free games.
On PS5, a collapsible menu will open instead. If you scroll down to this, you will be able to find individual buttons for claiming the free titles.
There is always at least one next-gen game included in the giveaway. If you are on PS4, you can still grab this so that it is permanently marked as 'owned' on your PSN account. That way, when you eventually get your hands on an elusive PS5 console, you will still be able to download it free.
In related news, the Epic Games Store also gives away a title to its registered users every month. Newsweek has published a guide on how to claim these freebies from the platform, as well as an up-to-date list of every game that has been included so far in 2022.
Image shows the PS Plus logo. If you navigate to this on your PS4 or PS5 dashboard, you will be able to download your free games for the month. Sony Interactive Entertainment