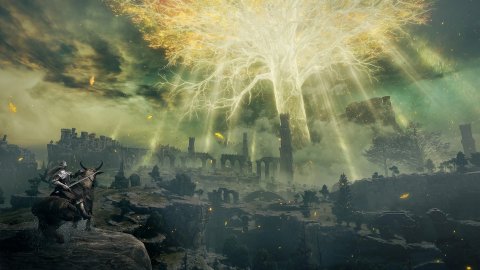 Elden Ring
Elden Ring is already in the hands of various users, apparently, so much so that some have already started to make gameplay videos on Twitch and YouTube, obviously contravening the embargoes since the game is not officially released yet and constituting a real spoiler danger.
for those who
do not intend to receive sneak peeks on the content.
Many screenshots and game sections have been published on Reddit, but there are also those who have started streaming on Twitch or uploading video snippets to YouTube. On the latter, for example, it is already possible to find the entire initial sequence of Elden Ring complete, which obviously can spoil the surprise for everyone, but similar examples and also videos of more advanced game sequences are multiplying.
The reason why there is this diffusion of videos and materials is simply the breakup of day one by some retailers: considering that various journalists and influencers must respect embargoes, it is logical to imagine that those who do not is doing that users have come into possession of Elden Ring well ahead of time, since the game has actually arrived at some retailers for days.
The advice is therefore to be careful and maybe switch away from videos and channels that contain references to Elden Ring, in case you want to avoid previews and spoilers. Recall that the game
will be released on
February 25, 2022 on PC,
PS4
,
PS5
,
Xbox
One
and Xbox Series X
| S, in these hours the Confessor and Samurai classes have been unveiled, while the Amazon pre-order of the Launch Edition is still available for one week.
Source Have you noticed any errors?
---
Elden Ring: What are the differences between each edition?
Elden Ring is set to be released next week on various platforms, including PS5, Xbox Series X and Series S and PC, but how much will the various editions of the game cost you and what are the differences?
There is a huge amount of excitement surrounding the release of FromSoftware's latest opus, which is set to hit stores on February 25th.
Indeed, George R.R Martin has contributed to the story, fresh from the conclusion of Game of Thrones on television, and FromSoftware are looking to build a game as beloved, and as revered, as the likes of Dark Souls and Bloodborne.
To that end, there are various different options for purchasing the game should you want to lose yourself in the open world and attempt to take on various brutal bosses.
There are actually five different versions of Elden Ring available to purchase, and we've had a look at the differences between them, as per the game's official website.
Elden Ring Standard Edition
This one is as simple as it comes. If you buy the standard edition, you'll simply get access to the game, and nothing else.
If you pre-order, you'll also get the game's Adventure Guide, which will give you some interesting info about the world, and a gesture named 'The Ring'. The latter can also be unlocked via gameplay.
The standard edition costs £49.99 in the UK. If you buy on PS4, you will receive a free upgrade to PS5 should you buy the new console. This is the case for all editions.
Elden Ring Deluxe Edition
Buying the deluxe edition will give you the game, as well as some cool digital content, including an artbook and the soundtrack.
If you pre-order, you'll also receive the Adventure Guide and The Ring gesture.
It costs £64.99.
Elden Ring Launch Edition
The Launch Edition has the game but does not include the digital artbook and soundtrack.
Instead, it has stickers, a poster, a woven patch, some art cards and a steelbook, provided you've pre-ordered.
It costs £54.99.
Elden Ring Collector Edition
Credit: FromSoftware Inc
The Collector Edition has the game, obviously. You will also receive the stickers, the poster, the woven patch, the art cards, and the steelbook. In addition to those, you'll receive the art book, in physical form, as well as the digital soundtrack and a Malenia figurine, that stands at 123CM tall.
It's £169.99 but is largely out of stock.
Elden Ring Premium Edition
The Premium Edition has everything that the Collector's Edition has, along with a numbered Malenia helmet, because of how few copies of this were available.
If you can find one in stock, it'll set you back a staggering £229.99.
next story previous storyNews Now - Sport News