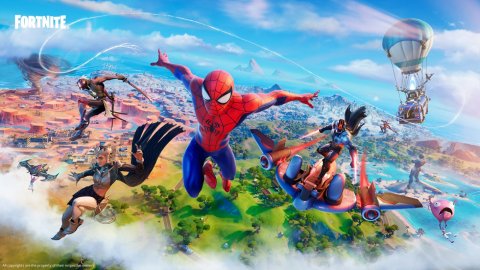 Fortnite
Fortnite is known for its collaborations, especially with
Marvel
. Now, a comic book may have unveiled in advance the next skin that will be present within the Epic Games battle royale.
Precisely, as indicated, Shuri could be coming from Black Panther in Fortnite. This was all suggested by the well-known leaker Shiina, as
you can see
for yourself in the tweet below.
The new crossover comic book of June, Fortnite X Marvel Zero War, a sequel to the Nexus War book - which had anticipated Thor's arrival on the island -, shows us that among the Marvel characters also present is Black Panther's sister, Shuri, who uses technology to fight.
Obviously this is not an official confirmation, just a reasoning, but it could be just what will happen. Shuri, by the way, will be an important character for the Black Panther movie Wakanda Forever: the arrival in Fortnite could be part of Marvel's promotional effort.
For the moment, in any case, we can only wait confirmations or denials. In the meantime, we can (re) watch the Italian trailer for Doctor Strange in the
Multiverse of Madness
, the next Marvel movie.
Source Have you noticed any errors?
---
Fortnite Guides: How to get Rogue and Gambit in the Item Shop
We got new Marvel heroes in town. In this Fortnite Guide, we will teach you how to get Rogue and Gambit in the Fortnite Item Shop.
Recently in Fortnite's item shop, mutants from the X-Men made their comeback. Most notably one of the X-Men's power couples in Rogue and Gambit made their official debut in Fortnite. Here's how you get them. 
Both Rogue and Gambit are now in the item shop and cost 1,500 V-Bucks each. The two mutants come with their very own back bling if you purchase their skins separately. Players can save 900 V-Bucks should they decide to get the bundle that comes with an additional loading screen. The Rogue &Gambit Bundle costs 2,100 V-Bucks and contains the following items:
Gambit (Outfit)
Rogue (Outfit)
Kinetic Cards (Back Bling)
Xavier's School For Gifted Youngsters (Back Bling)
Rogue & Gambit (Loading Screen)
Aside from the skin bundle, players can also purchase their gear. Prices may vary depending on which of the gears players would want to purchase. Players can also acquire the Rogue & Gambit Gear Bundle for 1,800 V-Bucks which contains the following:
The Blackbird (Glider)
Suit Surfer (Glider)
Holo X-Axe (Harvesting Tool)
Lebeau's Bo (Harvesting Tool)
Deal 'Em Out (Emote)
Hands Off! (Emote)
In the comics, Rogue and Gambit were the first couple in the group to get married. Looks like they beat the other X-Men couples once again by being the first X-Men couple in Fortnite. Hopefully this and our other Fortnite Guides have helped you. Rogue and Gambit are now available in the item shop today.