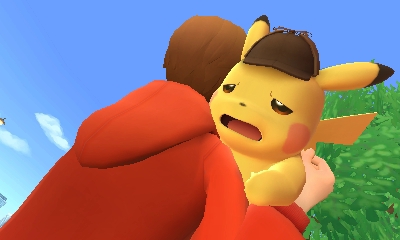 Detective Pikachu
Detective Pikachu 2, or as the sequel to the original will be called, seems to be still in development according to the official website of the Creatures team, which logically should be working on the game in question and in fact reports it among the projects in progress. >
The site is in Japanese and is therefore not very easy to navigate for those unfamiliar with the language, however several have reported some updates applied to the "people" section, which contains various information, biographies and curriculum vitae on the developers and members of the Creatures team, from which clues emerge about a sequel to Detective Pikachu in development.
Specifically, the developer referred to simply as "KT" appears to be in charge of carrying out some programming elements for the "Detective Pikachu sequel", as it is currently identified without an official title yet.
The sequel in question was mentioned in 2019 for the
Nintendo
Switch, but by then there was no other information, with a silence that lasted so long as to suggest the cancellation of the project. Some clues came only from rather strange sources, such as the catalog of titles present within
Monster Rancher 1
& 2 DX, but without being able to consider them actually official.
Considering the success also enjoyed by the film at the cinema, it is not absurd to think that a Detective Pikachu 2 could actually arrive sooner or later on the Nintendo Switch.
Source Have you noticed any errors?
---
Detective Pikachu game sequel is still in development according to studio's website
A Detective Pikachu sequel is seemingly still in development at original studio Creatures.
Over the past weekend, it was spotted that the Creatures official website had been updated with a 'People' section. A developer at the studio, attributed only as K.T., makes reference to a 'sequel to Detective Pikachu' in his comments on the page, outlining how they're in charge programming for parts of the sequel.
The Detective Pikachu sequel was announced all the way back in 2019, specifically for the Nintendo Switch, but news on the sequel has been absent ever since. At the time, it was quietly confirmed through a press conference held in Tokyo, not through the fantastical Nintendo Direct presentations we're so used to now. 
Right now, it's been nearly four years since Detective Pikachu first launched on the Nintendo 3DS. In a fully-voiced twist on the usual Pokemon formula, Pikachu donned a cap and went searching for mysteries with a human partner, tackling crime while waxing lyrical about his love of coffee. It was a new direction for the Pokemon series in general, that's for sure.
If you were wondering about the Ryan Reynolds-led Detective Pikachu movie, the game and film follow two very different stories, and it was outlined back in 2019 that the Detective Pikachu game sequel wouldn't be an adaptation of the movie. Speaking of, it doesn't look like we're ever getting a follow-up to the live-action movie, as star Justice Smith poured cold water on hopes last year.
Check out our best Pokemon games guide for a look at all the other adventures you can fill your day with.
Hirun Cryer is a freelance reporter and writer with Gamesradar+ based out of U.K. After earning a degree in American History specializing in journalism, cinema, literature, and history, he stepped into the games writing world, with a focus on shooters, indie games, and RPGs, and has since been the recipient of the MCV 30 Under 30 award for 2021. In his spare time he freelances with other outlets around the industry, practices Japanese, and enjoys contemporary manga and anime.