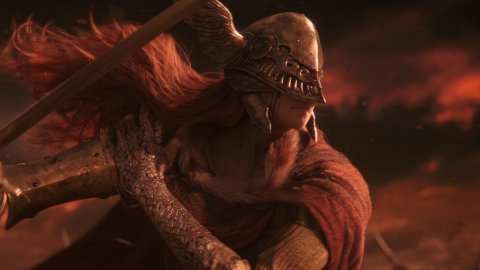 Elden Ring
PlayStation
Game Size, a Twitter account dedicated to finding information on the PS Store, has shared some details on the patch notes of the update 1.01 of Elden Ring, the long-awaited action RPG from FromSoftware.
Precisely, the patch notes of Elden Ring update 1.01 reads:
New functions added Improved game balance Improved game performance and usability Fixed some bugs
Update 1.01, therefore , takes care of solving some problems in the game, in time for D1. PlayStation Game Size also told us how much this update should weigh and what the total weight of the game will be.
An ambush at an Elden Ring caravan We also already knew that the development team has proceeded to insert a series of changes and balances to the game, changing the power of some objects and enemies. Specifically, one of the weakened enemies is the first boss of the Elden Ring Network Test, who was too powerful according to the game's producer.
As always, it's credible that the very first update is not
the last of
Elden Ring. . The game seems massive and it is possible that
there will be
many small changes to be made over the weeks following its release, also in response to player feedback.
Waiting for the release and our review, we refer you to to our last trial, in which we answered various doubts that emerged after the Network Test.
Source Have you noticed any errors?
---
Elden Ring's PC specs aren't as demanding as you expect
We're 10 days out from Elden Ring launching, and developer From Software has finally shared the game's system requirements. Anyone who wants to play the game on PC instead of consoles will have to have a somewhat decent rig, although that may change in the future.
Minimum requirements
Operating System: Windows 10
Processor: Intel Core I5-8400/AMD Ryzen 3 3300X
Memory: 12GB RAM
Graphics Card: Nvidia GeForce GTX 1060, 3GB/AMD Radeon RX 580 4GB
Storage: 60GB
DirectX: Version 12
Recommended requirements
Operating System: Windows 10/11
Processor: Intel Core I7-8700K/AMD Ryzen 5 3600X
Memory: 16GB RAM
Graphics Card: Nvidia GeForce 1070, 8GB/AMD Radeon RX Vega 56, 8GB
Storage: 60GB
DirectX: Version 12
Elden Ring's PC specs aren't too far from the norm of modern AAA releases. In fact, compared to some other recent games it's not all that demanding. Halo Infinite, for instance, recommends that players have a Radeon RX 5700 XT or Nvidia RTX 2070 to run the game above minimum settings.
Where Elden Ring's specs surprise is in its minimum memory requirement. Players are recommended to have 16GB of RAM, which is fairly standard. However, 12GB to run the game at its minimum settings is somewhat surprising, though shouldn't be a problem for Steam users based on the latest Steam hardware survey. According to Steam, just under half of its users have 16GB of RAM.
While Elden Ring's PC specs aren't too demanding, that could change in the future. From Software is leaving room for the game's requirements to change, saying that the "Current specs are valid for launch day and may be updated in the future." It's not clear what could cause the game's specs to change, although the most likely case is that it'll simply take up more space due to patches and updates.
Editors' Recommendations