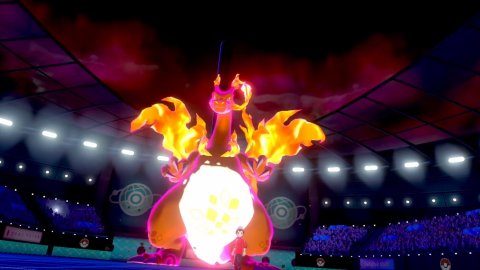 Pokémon Sword and Shield
Pokémon Sword and Shield today see the arrival of Charizard, Blastoise and Venusaur in Gigamax version within the Gigamax Raid, but only for a limited time: the initiative will end on February 27 at 23:59.
This is today's announcement for Pokémon Day 2022. By defeating the three Pokémon in raids,
it will be
possible to obtain the Fungomax, a tool that
allows you to
increase all the statistics of the Pokémon in the field by one level during battles.
Meeting Charizard, Blastoise and Venusaur is simple: with
Nintendo
Switch connected to the network, you have to reach the columns of light that appear in the Wild Lands and examine them to access a raid after defeating a Pokémon Dynamax.
If you have difficulty in finding the Pokémon in question you can try to update the Bulletin of the Wilds, opening the menu, selecting the option Secret Gift and choosing the item "Receive the bulletin of the Wilds".
As mentioned, we are talking about today's announcement for the celebrations of Pokémon Day 2022, but
there will be
more every day until February 27.
Source Have you noticed any errors?
---
Pokemon reveals plans for Pokemon Day: Shield & Sword, UNITE, GO, and more
Pokemon Company has finally revealed their plans on what to expect on Pokemon Day 2022. The main event of Pokemon Day will be on February 27, 2022. This has always been done on the same date of February 27. This year, before the actual main event, we have 6 days filled with news on each Pokemon Game they have up and running. There will be updates on the old game titles but are we expecting a new one after Pokemon UNITE's release?
Pokemon developer Game Freak always hosts Pokemon Day every February 27 to celebrate its launch back in 1996. This has been their platform to have big or major game announcements and what to expect for the year. Recently, in Pokemon Company's Japanese account, they released a full schedule on what to expcet on the week of Pokemon Day. 
"Until "Pokémon Day" on February 27th (Sun), we will deliver news about various games and apps every day! Details will be announced on the special website and official Twitter, so don't miss it!" a tweet from the Japaense twitter account read. The tweet says "February 27th is "Pokémon Day"! From today, February 21st (Monday) to February 27th (Sunday), the day of "Pokémon Day", we will introduce special information on the special site every day! There will also be a project to commemorate "Pokémon Day", so be sure to check it out!
In a second image followed by the statement, they've revealed the updates from various game titles. Here is the full list of the game titles and their update announcement dates:
Pokemon Masters EX (February 21)
Pokemon Sword and Shield (February 22)
Pokemon Cafe ReMix (February 23)
Pokemon UNITE (February 24)
P25 Music (February 25)
Pokemon GO (February 26)
Pokemon Day event (Februrary 27)
People are still curious on what to expect on the final day of Pokemon Day 2022 as it always brings us surprising news. The Pokemon Company announces new Pokemon games on that specific date, prioritizing mostly the main title game. In this platform, we'll see if we get to see Generation 9 of Pokemon be released in the near future. It has been 3 years since Pokemon Shield & Sword debuted, so it's about time to get another Pokemon journey for our Pokefans. 
Even though Pokemon Legends Arceus and Brilliant Diamond & Shining Pearl were the recent releases of Pokemon, they are not part of the updates on Pokemon Day. Pokemon might have focused on their existing older titles, to still give them importance. It's still a secret on what they will announce on the 27th of February but we are expecting it to be huge for the Pokemon community.