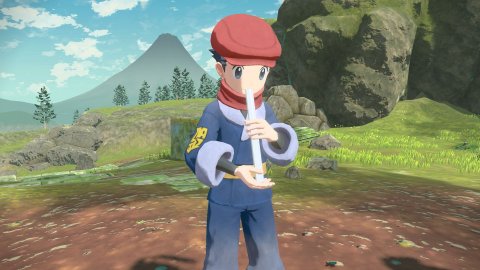 Pokémon Legends
Pokémon Legends: Arceus today received a
free update
titled The Dawn of Hisui and presented during the streaming of the Pokémon Presents that ended a few minutes ago.
This is in effect a new adventure placed within Pokémon Legends: Arceus (review), in which we will have the task of investigating the mysterious disappearance of numerous Pokémon in order to understand what happened and try to stop this phenomenon.
That's not all: the The package, which brings the game to version 1.1.0, will also include new Pokémon battles and some cute gifts that come in conjunction with Pokémon Day.
Speaking of Pokémon Legends: Arceus,
Nintendo
also announced a new animated series set in Hisui, therefore in the same scenario that is the background of the game's campaign.
Have you noticed any errors?
---
Pokemon Legends: Arceus Daybreak Update Out Today, Animated Show Coming Later This Year
The Pokémon Legends: Arceus Daybreak Update is launching today, and a new animated show set in the Hisui region is launching later in 2022, as revealed during the latest Pokémon Presents. The free game update highlights new monster outbreaks to investigate after a strange phenomenon causes an uproar, adding additional battles at the Jubilife Village training grounds for players looking to hone their skills. As a bonus to help celebrate Pokémon Day, players can gain 30 Ultra Balls, Gigaton Balls, and Jet Balls by entering the code "ACREUSADVENTURE" as a Mystery Gift password.
All Pokémon Legends: Arceus Daybreak content will be available to players after they see the credits roll in the game. The outbreak-focused questline sees players investigating with Warden Mai and her Munchlax. Those looking for extra postgame challenges can battle Legendary Pokémon by going to sleep in the quarters. Footage of the Pokémon Legends: Arceus Daybreak Update can be seen below.
As for that animated Pokémon series, The Pokémon Company says we can expect an original story set in Pokémon Legends: Arceus' Hisui region. Production on the online series has already begun. Not much more information was revealed, but with a 2022 release window set, we'll surely know more soon.
Today's Pokémon Presents arrives on Pokémon Day 2022, celebrating 26 years of the Pocket Monsters phenomenon. Along with today's Pokémon Legends: Arceus update and series announcements, we received our first look at Pokemon Violet and Scarlet. For a look at the entire 14-minute showcase, you can watch the video below.