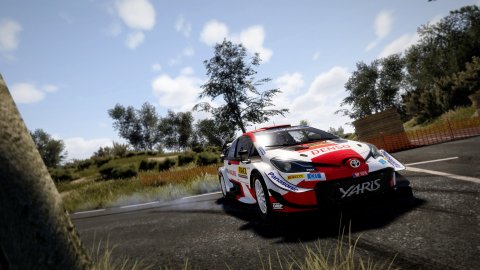 WRC 10 available
WRC 10 is available starting today in PC,
PS5
,
PS4
,
Xbox Series X
| S
and Xbox One
versions, with the Nintendo Switch edition coming later, and a spectacular launch trailer could not be missing.
As we wrote in our test of WRC 10, the game takes up the solid driving model already appreciated in the previous edition, with its many simulative facets, and applies it to a structure that promises really great substance and an eye for the against rally enthusiasts.
To celebrate 50 years of racing in 2022, WRC 10 offers a unique anniversary edition, full of new features and driving thrills. A retrospective mode offers players the chance to relive 19 events that have made the history of the league.
WRC 10, one of the many tracks available in the game These demanding special stages challenge the skills of the drivers by imposing specific conditions for each era. Drive in six historic rallies, including the legendary Acropolis Rally (Greece) and the Sanremo Rally (Italy), with over 20 of the WRC's most iconic cars: Alpine, Audi, Lancia, Subaru, Ford, Mitsubishi, Toyota. .. With more content than ever, fans will love WRC 10 and its homage to 50 years of rallying.
The physics, already praised by critics and drivers in WRC 9, have been further improved to offer players an even more realistic experience.
The control of aerodynamic forces, turbo and braking have received particular attention on all surfaces, so that WRC 10 recreates ever more accurate and intense driving sensations. Immersion has also been augmented with a completely reworked audio design for this new edition. Experience the rally as if you were there!
WRC 10, a spectacular drift The hugely popular Career mode has also been enhanced with a new livery editor and the ability to create your own team. Now you can apply your own colors to the championship cars to complete the 52 official teams of the 2021 season. Take the challenge with your own custom team!
Finally, to extend the experience, the game
will also be
enriched in the months following the launch, through several free updates that will bring in particular new cars as well as new celebratory events, regular updates of the Co-Driver mode, new stickers in the livery editor, and finally a brand new online multiplayer championship mode!
Have you noticed any errors?
---
WRC 10 - Launch Trailer
Duration: 01:06 2 hrs ago
SHARE
SHARE
TWEET
SHARE
EMAIL
To celebrate 50 years of the competition in 2022, WRC 10 offers a unique anniversary edition, bursting with new features and driving thrills. A retrospective mode offers players the chance to relive 19 events that have shaped the history of the Championship. These challenging special stages put drivers' skills to the test by imposing conditions specific to each era. Drive six historic rallies, including the legendary Acropolis Rally (Greece) and Rallye Sanremo (Italy), with over 20 of the WRC's most iconic cars: Alpine, Audi, Lancia, Subaru, Ford, Mitsubishi, Toyota… With more content than ever, fans will love WRC 10 and its homage to 50 years of rallying. #WRC10 is now available on PlayStation 5, PlayStation 4, Xbox Series X|S, Xbox One and PC through Steam and the Epic Games Store, and on Nintendo Switch at a later date. FOLLOW US ELSEWHERE --------------------------------------------------- Website: https://xboxviewtv.com Subscribe: https://cutt.ly/osXUR1y Twitter: https://twitter.com/xboxviewtv Facebook: https://facebook.com/xboxviewtv Join XboxViewTV: https://www.youtube.com/channel/UCmrsjRoN3g5TtOGIlq-sQSg/join Dailymotion: https://Dailymotion.com/xboxviewtv YouTube: http://www.youtube.com/xboxviewtv Twitch: https://twitch.tv/xboxviewtv