Tests by Kena Bridge of Spirits
After a postponement, the indie adventure Kena:
Bridge of Spirits
for the PC and
PlayStation
consoles will be launched on Tuesday. Fittingly, there are already the first tests from international magazines and websites that paint an initial picture of the mood of the game. So you already have a rough idea of ​​how good or bad it is before you buy it.
The tests published so far paint a predominantly positive picture of Kena: Bridge of Spirits. Above all, the detailed graphics, which some of the authors even compare with the animated films by Pixar, received a lot of praise. The game world and the large amount of freedom to explore it also come off very well. In addition, there are positive words for the well-adapted learning curve, the equally challenging but fair fights and the variety through puzzles and other gameplay elements.
But
there is also
cause for criticism: The testers feel, among others, from some Attack patterns very annoyed during the fights. They also complain about jerky cutscenes, little innovative gameplay approaches and gameplay that is too simple in the long run. At Metacritic, Kena: Bridge of Spirits currently has an average rating of 85 points. Here is the overview:
Dualshockers -100/100 GameSpew - 100/100 Digital Trends - 90/100 Game Informer - 90/100 Screen Rant - 90/100 Hobby Consolas - 86/100 Vandal - 85/100 TheGamer - 80/100 Destructoid - 80/100 Game Rant - 80/100 IGN - 80/100 Press Start Australia - 80/100 Source: MetaCritic
---
Kena: Bridge of Spirits tech review — Wouldn't it be lovely
Kena: Bridge of Spirits is an indie game, but you wouldn't know that from looking at it. It looks like a AAA title, although it doesn't require much of a beefy setup to run. I've spent several hours with the game and am very impressed with many aspects of its PC version. I do have to note, however, that I can't give specifics on the fps. It's currently an Epic Games Store exclusive, so I can't use Steam's fps counter, nor do any of my fps counter apps work with the game. There also isn't an in-game option, so I'm going to have to eyeball it. Well, now that that's out of the way, let's take a look at the game's specs:
Recommended:
GPU: AMD Radeon RX Vega 56 8GB/ Nvidia GeForce GTX 1070 8GB or Equivalent
CPU: AMD Ryzen 5 2600X/Intel i7-6700K or Equivalent
RAM: 16 GB
Minimum:
GPU: AMD Radeon R7 360 2GB/NVIDIA GeForce GTX 650 Ti 2GB or Equivalent
CPU: AMD FX-6100/Intel i3-3220 or Equivalent
RAM: 12 GB
Reviewer:
GPU: AMD Radeon RX 5700 XT
CPU: AMD Ryzen 5 2600X
RAM: 16 GB
Yep, it'll run with an R7 360 and GTX 650 Ti. That's quite the reasonable setup. For me, the game runs beautifully. I'm not going to pretend I know exactly where the framerate is, but it definitely feels like a solid 60+ most of the time. I get a few hitches here and there, but nothing serious. However, I have experienced a couple of crashes, both of which occurred after having the game paused for several minutes. Just like every other time this happens to me with an indie game, it's probably my AMD GPU. It does it to me every time. One of these crashes was one of those weird ones, where my computer started glitching out more and more until it finally froze entirely. What a pain. Next up, let's take a look at the game's display and graphics options.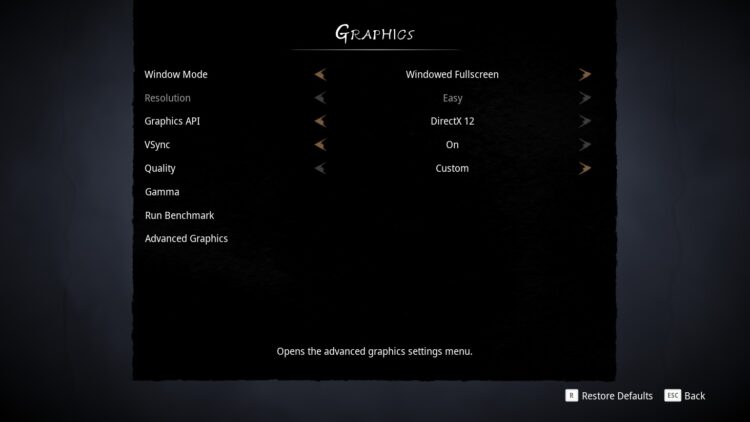 Resolution listed as "easy"?! That's a first for me. I'm not entirely sure what that means, but I'm assuming it's just "the resolution is the same as your desktop." I guess that's pretty easy. There's a benchmark, but clicking it just immediately set my quality levels without showing me a stress test with fps. That's not really a benchmark, Kena, that's autodetecting settings. You can also choose your API if you prefer.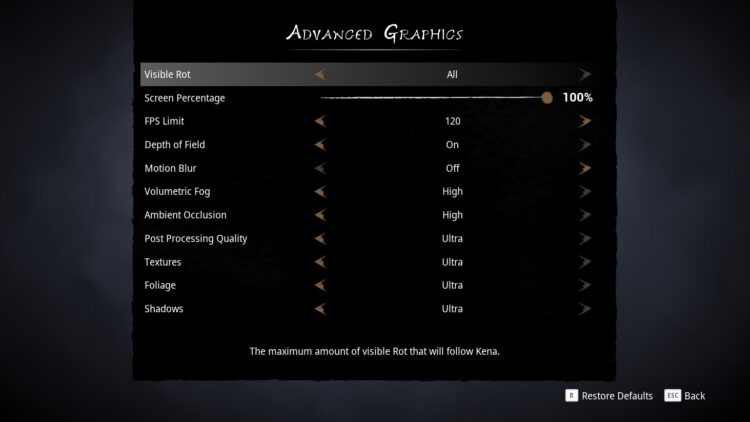 The fps can be set to uncapped or the various typical monitor refresh rates. There's an option for everyone. Plus, the standard assortment of features, ranging from low to ultra settings. Regardless, Kena: Bridge of Spirits is a visually stunning game, so it's great that it'll run on most kinds of potato, sorry, PC. Here are some comparison images from low to ultra with textures, foliage, and shadows.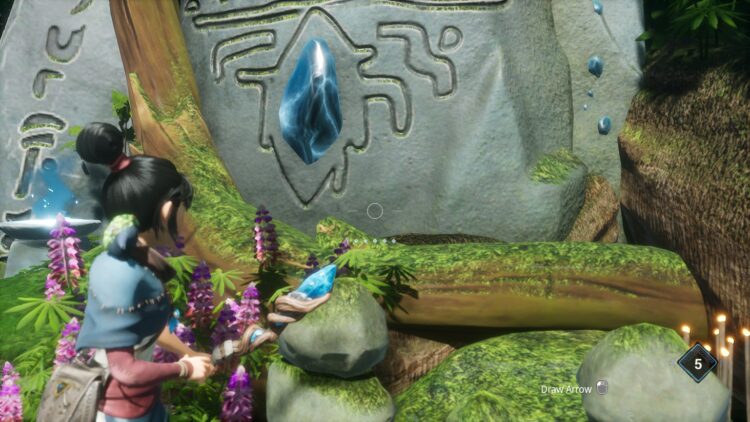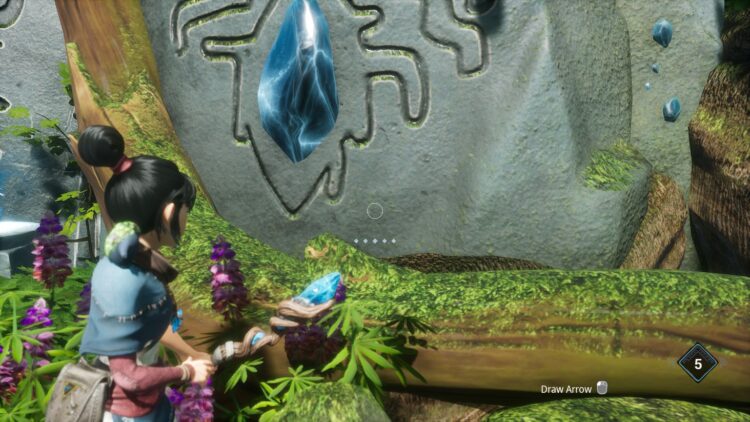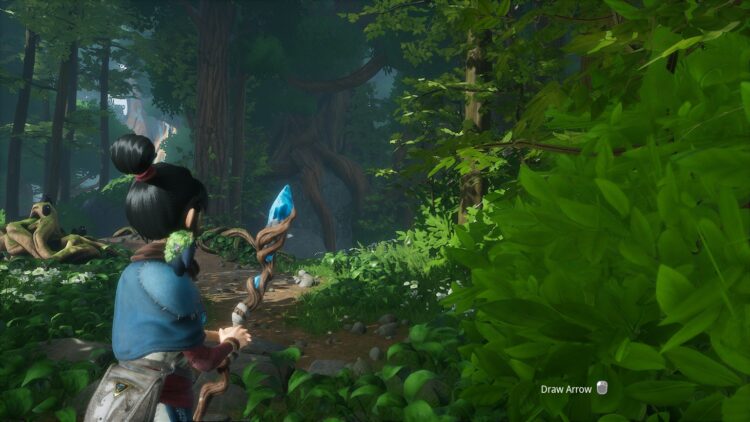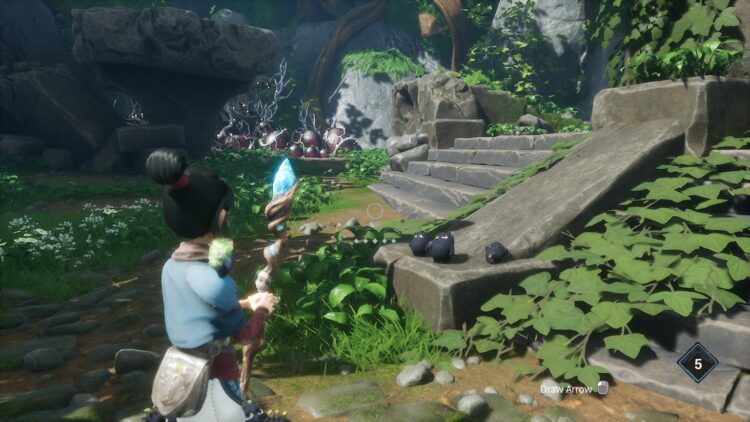 The pictures didn't turn out so well, but I did my best to showcase Kena. Once again, this is an EGS-only release, so I captured the screens with my GPU's software, which requires stupid button presses that didn't play nicely with Kena. Regardless, the game looks great no matter what the settings are. As for controls, Kena didn't automatically apply PlayStation button prompts even though I used a DualShock 4 to play it. This is kind of weird since it's currently a PlayStation console exclusive. Regardless, I'm making do with Xbox. Every button, whether you're on m/kb or controller, can be rebound too, although controller is kind of tricky considering that heavy attack and firing the bow are the same button.
There you have it. Kena: Bridge of Spirits has a very strong PC version, aside from my own instances of crashing. Once again, you'll probably be okay if you're on Nvidia. I'm never gonna live that down.