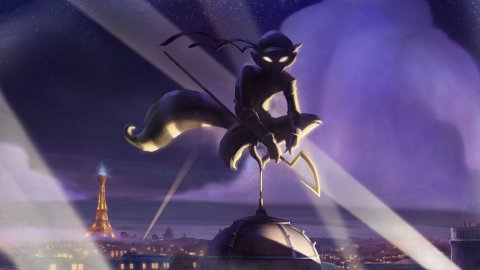 PlayStation Showcase
PlayStation
users have literally dissected the opening spot of the PlayStation Showcase, discovering some very interesting quotes to announced titles and others as yet unannounced, such as the potential remake of Sly Cooper. In addition to those identified, there are also some logos that have not been associated with anything, but which could still suggest titles in development of which nothing is known. Let's read what was discovered:
0.35 Hogwarts Legacy 0.37
God of War
: Ragnarok 0.46 Dragon Quest series (the slime) 0.47 Uncharted 4: A Thief's End and The Lost Legacy x Fall Guys 0.51 Final Fantasy XVI (Valisthea 06.16) 0.55 Pac Man, with other logos underneath 1.11 Sly Cooper 1.16 Final Fantasy 7 Remake 1.29 Crash Bandicoot 1.47 Resident Evil 4 on the right, and a skull logo on the left of an as yet unidentified nature 2.38
Horizon Forbidden West
Let's review the spot:
The most mysterious references are those to Dragon Quest, Pac-Man (a new game coming?) And Sly Cooper. The remake of Resident Evil 4, although unannounced, is in fact well known, while the other games have been shown during the PlayStation Showcase or have been known for some time (such as Horizon Forbidden West). Who knows that the video does not hide even more.
Source Have you noticed any errors?
---
Editor's Choice: Top 5 Highlights of PlayStation Showcase (September 2021)
The latest PlayStation Showcase brought plenty of titles for
Sony
players to drool over. Here are our top picks of the show.
It's almost Q4 2021, the holiday blockbuster season is about to begin, and companies are beginning to trot out their biggest wares to whet our appetites. September's PlayStation Showcase did not disappoint, promising a broad sampling of titles for the PS5's next year.
It was hard to narrow everything down, but here are our choices for the biggest announcements:
5. Project Eve
The first console offering from Korean studio Shift Up is Project Eve, a dark and bloody vision of a post-apocalyptic Earth. You'll play as Eve, the sole survivor of a paratrooper squad deployed to take back the planet from the invaders that forced humanity into space. Combat is combo-focused and evokes elements of Bayonetta and NieR—and maybe even a touch of the bloody body horror of Parasite Eve.
No release window is known at this time, but Project Eve already looks to be making excellent use of the PS5's hardware to render beautiful, haunting environments.
4. Forspoken
Square Enix and Luminous Productions have been working on Forspoken for some time, having previously shown it off under the working title Project Athia. Its PlayStation Showcase trailer further highlights protagonist Frey (played by Ella Balinska), while introducing her sentient magic bracelet, Cuff (Jonathan Cuff) and the diabolical dictator Tanta Sila. This sorceress, portrayed by Janina Gavankar of Star Wars: Battlefront 2 fame, has fallen from grace and is now one of the evil matriarchs ruling over the world of Athia, which Frey finds herself lost in.
Forspoken is looking very impressive ahead of its Spring 2022 release date, and its creative team has some serious pedigree. Writing is being handled by Gary Whitta (Rogue One: A Star Wars Story), Amy Hennig (Uncharted), Allison Rymer (Shadowhunters), and Todd Stashwick, while both Bear McCreary (The Walking Dead) and Garry Schyman (BioShock) are handling the score.
3.
God of War
: Ragnarok
It may have been delayed this calendar year, but God of War: Ragnarok looks to be one of the more impressive titles of 2022. Kratos will have to deal with the ramifications of his actions in the previous game as both Freya and Thor hunger to slay him. Meanwhile, he continues to wrestle with how to raise his son, Atreus, especially as renewed conflict with the Aesir looms over their heads.
Along this new journey, Kratos will be able to visit all Nine Realms, including new areas from those seen in the last game, and the brand-new Vanaheim, Svartalfheim, and Asgard. Most of the footage shown in the new trailer seems to be set in wintry climes, well-suited to the cold fury of Freya. This is already looking like a major Game of the Year contender for 2022, whenever it arrives.
2.
Marvel
's Spider-Man 2 and Wolverine
Insomniac Studios teased not one but two new Marvel projects late in the PlayStation Showcase—a sequel to the acclaimed 2018 Marvel's Spider-Man, and an unexpected new standalone game starring everyone's favourite ornery Canadian, Wolverine.
Marvel's Wolverine is said to be 'very early in development' but the brief cinematic introduction nailed the tone fans should expect from the character. Wolverine has featured prominently in plenty of Marvel games over the years, but hasn't often had the spotlight all to himself—unless you want to count X-Men Origins: Wolverine, which most people would rather forget.
Marvel's Spider-Man 2, however, packed a lot of intriguing clues into its reveal trailer. Peter wields metallic limbs like a spider—or like Doctor Octopus?—while fighting alongside his protégé, Miles. It seems he'll need all the help he can get, as Venom will make his debut, voiced by Candyman's Tony Todd. And could that be Kraven the Hunter speaking?
1. Star Wars: Knights of the Old Republic Remake
It's been rumoured for some time, but now it's official: Aspyr Media is handling a 'ground up' remake of Star Wars: Knights of the Old Republic, perhaps the most universally beloved Star Wars game of all time. The project is in early development, which could see it arrive in time for the original's 20th anniversary, but a quick teaser showed us a glimpse of Darth Revan. You didn't need to be Obi-Wan Kenobi to sense the disturbance in the Force as thousands of fans suddenly cried out in excitement.
'We're rebuilding one of the greatest RPGs of all time for a new generation with modern tech, features, visuals and more, while maintaining the integrity of the story and characters that we've come to cherish,' said Aspyr Media Lead Producer, Ryan Treadwell. The studio has had plenty of experience reworking previous games, including ports of both KOTOR games for mobile, so LucasFilm has placed this anticipated project in some qualified hands. We'll see the fruits of their labours exclusively on PS5 (and PC) in the near future.
And that's just the tip of the iceberg for this fall's PlayStation Showcase! For more details on titles Gran Turismo 7, Tiny Tina's Wonderlands, and the adorable Tchia, be sure to check out our complete coverage on Sony's showcase.