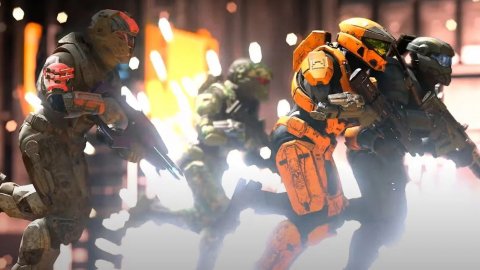 343 Industries has decided to change the way Halo Infinite's radar works, following the suggestions of players who have had the opportunity to try the shooter coming to PC and
Xbox
in December. Via the Halo Waypoint website, the development team explained the situation.
"The Combat Sensor, or radar, located at the bottom left of the HUD, followed a different set of rules than in previous titles of Halo, "explained the team. "It only showed enemies when they sprinted or fired, which was more in line with Halo 5's 'Threat Tracker'. We knew this implementation would create a different feeling, and maybe it would also be perceived as a bit controversial, and it's that's why we wanted to get feedback on it as soon as possible in the Tech Preview. "
" While some enjoyed Halo Infinite's new approach, we found that most players missed the old match characteristics, "explained the team. "We've updated the radar to make it more like the 'Motion Tracker' it used to be, which shows all movement except squatting, and it should be ready for players to test in the next test. Be sure to keep an eye on it and let us know. how are you doing! "
343 Industries is therefore listening to the fans and making sure everything is running smoothly. There are certainly a lot of gamers who can't wait to get their hands on the game and one of them is Cory Barlog, creator of
God of War
, who bought an
Xbox Series X
to play Halo Infinite.
Source Did you notice any errors?