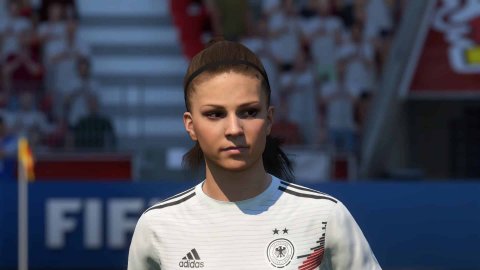 FIFA 22
A few weeks after the launch of FIFA 22,
EA Sports
has unveiled the 22 best female football players and their ratings in the new edition of the football simulator.
As we get closer to its in-store debut, EA is sharing about the social the ratings of the best players in clubs and divisions. Just yesterday the ratings of the best champions of the Premier League and the Spanish Liga were unveiled. Today it is the turn of the 22 strongest female players in the world, again according to the estimates of the Evaluation Committee.
Here is the top 22 of FIFA 22 women's football:
Sara Dabritz - Germany - 87 Lindsey Horan - United States - 87 Kim Little - Scotland - 87 Amel Majiri - France - 87 Jenni Hermoso - Spain - 87 Becky Sauerbrunn - United States - 88 Alexandra Popp - Germany - 88 Fran Kirby - England - 88 Christine Sinclair - Canada - 89 Lieke Martens - Holland - 89 Eugenie Le Sommer - France - 89 Julie Ertz - United States - 89 Alex Morgan - United States - 90 Megan Rapinoe - United States - 90 Tobin Heath - United States - 90 Caroline Graham Hansen - Norway - 90 Dzsenifer Marozsan - Germany - 90 Amadine Henry - France - 90 Samantha Kerr - Australia - 91 Wendie Renard - France - 92 Lucy Bronze - England - 92 Vivianne Miedema - Netherlands - 92
The Evaluation Committee is a network of observers united by a passion for the best game in the world. From sprint speed to finalization, passing precision to stamina, these folks meticulously observe on-pitch performance to monitor, judge and evaluate various players based on over 30 attributes that define a player's skill level. Their overall judgment creates the ratings of FIFA, an authoritative classification on the football skills of over 17,000 players.
We remind you that the appointment with FIFA 22 is set for October 1, 2021 for
PlayStation
5, PlayStation 4,
Xbox Series X
| S, Xbox One,
Windows
PC and Nintendo Switch.
Have you noticed any errors?
---
Cristiano Ronaldo vs Lionel Messi on FIFA 22: How do ratings of rivals compare and who is better?
Even though they are well into their thirties now, Cristiano Ronaldo and Lionel Messi continue to compete at the highest levels of the game.
Both players have found new clubs - Ronaldo returning to Manchester United, Messi joining Paris Saint-Germain - and fans will be able to pit them head-to-head on FIFA 22 from October 2021.
Which of them is better on the new EA Sports game? Goal takes a look at their ratings and how they compare.
On this page
What is Cristiano Ronaldo's FIFA 22 rating?
What is Lionel Messi's FIFA 22 rating?
How do Cristiano Ronaldo and Lionel Messi compare on FIFA 22?
Who are the best players on FIFA 22?
More FIFA 22 ratings & news
What is Cristiano Ronaldo's FIFA 22 rating?
Cristiano Ronaldo has an overall rating on FIFA 22 of 91. The Manchester United forward has gone down one point from FIFA 21, when he had a rating of 92.
It is the third successive decline for Ronaldo in the EA Sports series, with the Portugal captain having previously boasted a rating of 93 on FIFA 20 and 94 on FIFA 19.
Nevertheless, Ronaldo remains the best player in the Premier League - sharing that title with Manchester City midfielder Kevin De Bruyne - and among the top stars in the game overall.
The closest player on the Manchester United team is Bruno Fernandes, who has an overall rating of 88, while Jadon Sancho and Paul Pogba are 87.
Ronaldo's pace attribute has gone down two points but continues to be high at 87, while his physical has also reduced slightly to 75 from 77 in FIFA 21.
Return to top
What is Lionel Messi's FIFA 22 rating?
Lionel Messi's FIFA 22 rating is 93 and that makes him the best player on the game. His overall rating has remained unchanged from FIFA 21.
The new Paris Saint-Germain signing's FIFA ratings have actually been 90-plus since FIFA 09 and since being given a 94 in FIFA 12, he has not dropped below 93 in any of the 10 subsequent titles.
Interestingly, Messi's Pace, Shooting, Passing, Dribbling and Physical attributes all remain unchanged from FIFA 21, but his Defence attribute has gone down from 38 to 34 in FIFA 22.
Messi is the best PSG player on FIFA 22, with Neymar and Kylian Mbappe coming closest to him with ratings of 91.
Return to top
How do Cristiano Ronaldo and Lionel Messi compare on FIFA 22?RatingCristiano RonaldoLionel MessiOVR9193PAC8785SHO9392PAS8291DRI8895DEF3434PHY7565
Messi's overall rating on FIFA 22 is two higher (93) than that of Ronaldo (91), but how do they compare when the attributes are broken down?
As the table illustrates, Messi is considered better than Ronaldo in a number of areas, with his passing and dribbling abilities deemed much better than the Manchester United forward.
Messi's passing is rated 91 to Ronaldo's 82 - a reflection the Argentina international's greater assists contribution - and his dribbling is 95 compared to Ronaldo's 88.
Ronaldo edges Messi when it comes to Pace, Shooting and Physical attributes, but only slightly. Ronaldo's shooting skill is rated 93, one higher than Messi's 92, and his pace is 87, just two higher than his Argentine counterpart.
The only area where Ronaldo is undoubtedly far superior to Messi is the physical attributes, with a rating of 75 - 10 better than the PSG star.
Both players have the same rating for Defence, with both given a 34 by the Ratings Collective.
Return to top
Who are the best players on FIFA 22?RankPlayerPositionFIFA 22 rating1Lionel MessiRW932Robert LewandowskiST92=3Cristiano RonaldoST91=3Kevin De BruyneCM91=3Kylian MbappeST91=3NeymarLW91=3Jan OblakGK91=8Harry KaneST90=8N'Golo KanteCDM90=8Manuel NeuerGK90=8Marc-Andre ter StegenGK90
Messi is the best player on FIFA 22, retaining a title he has held for a number of editions.
Bayern Munich striker Robert Lewandowski is the second-highest rated player on the new game with an overall rating of 92.
Ronaldo is now the joint-third best player in FIFA, sharing the space with Man City's De Bruyne, and Atletico Madrid goalkeeper Jan Oblak, as well as PSG duo Mbappe and Neymar.
Tottenham and England captain Harry Kane and Chelsea midfielder N'Golo Kante follow with ratings of 90, as do Germany goalkeepers Manuel Neuer and Marc-Andre ter Stegen.
Return to top
More FIFA 22 ratings & news
Return to top