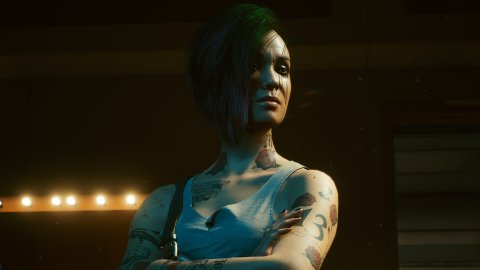 Cyberpunk 2077
Cyberpunk 2077 gets another update on PC, with a small hotfix that aims above all to solve some problems that emerged with the recent large patch 1.3, but in this case the changes are really minimal, even if important.
As reported by CD Projekt RED on Twitter, the hotfix for the PC version removes the use of the AVX instruction set from the game's executable file, which could cause crashing problems on older processors that do not support AVX.
The developers specify that the version of the game does not change with the application of this hotfix, which therefore remains a very marginal update: Cyberpunk 2077 remains updated to version 1.3 even after the application of this small adjustment, which it is however very important for a certain number of users.
Obviously, the question concerns only the PC version and not the consoles, since the AVX problem was related only to the Windows-based hardware system. In the meantime, it has emerged that
there is no
certainty of the arrival in 2021 of the expected next gen upgrade of Cyberpunk 2077
on PS5 and
Xbox Series X
| S, according to a clarification made by the developers after the financial conference.
We remind you that patch 1.3 of the game was made available last month on PC, Stadia,
PlayStation and Xbox
.
Have you noticed any errors?
---
Despite Everything, I Would Play A 'Cyberpunk 2077 Online'
Cyberpunk 2077
CDPR
A long while back, it seemed clear what CDPR's long term plan was for Cyberpunk 2077, the idea that eventually, after the single player content was sorted, they could expand the series into GTA Online territory, a multiplayer version of Cyberpunk that could emulate Rockstar's golden goose that has helped make it the best-selling game ever and raked in billions in revenue across three console generations now.
But CDPR cancelled Cyberpunk Online as a standalone game, and while that dream seemed dead, it does not seem like they're giving up entirely. As of the last patch, there are new files that indicate work is still being done on some sort of multiplayer component in Cyberpunk 2077. This may be a scaled down version of the standalone game they had planned, and yet it could still emulate GTA Online in the end.
And…I would…play that?
I don't play GTA Online. I just never really got into it, but what I have gotten into is Night City as a location and the general cyberpunk vibe of Cyberpunk 2077, between its gangs, fashion, weapons and more. And I have to admit that I would really be on board with a version of the game that emulated some aspects of GTA Online, even if it's not the full package.
Cyberpunk 2077
CDPR
What I would like to see from a Cyberpunk Online mode, at baseline:
A storyline free of V and the chip, creating our own original characters in Night City (they can use the same creator, just add more options).
Farmable "crimes" like repeatable stronghold type missions that you can complete with other players to earn loot and money.
Street races which unlike the base game would have A) customizable cars and B) better AI so there aren't things like absurd catch-up mechanics the way we saw in the base storyline.
The ability to purchase businesses to earn revenue, cyberware shops, weapon dealers, places like Clouds.
The ability to purchase homes, like the mansion we unlocked but never actually got to live in during the campaign. And the ability to customize those to some extent.
An open world with at least some measure of chaos introduced with other players around. Not sure if this is technically possible in the current form of the game, given how it was built, but it's kind of core to the GTA Online experience.
Maaaaybe some sort of PvP component, but I doubt Cyberpunk is anywhere close to balanced for this (it's not even balanced in PvE), so if this can't happen, I wouldn't complain.
Combine all these things together and yeah, I would farm repeatable activities for loot and cash to buy cooler cars and guns and houses and businesses and stuff. Again, this does not have to be as advanced as GTA Online or have as many features, but I can see this working, despite all the game's problems in the past, and I'd love to see it exist at some point in the future. The far, far future, judging by the game's current pace of fixes and releases.
Follow me on Twitter, YouTube, Facebook and Instagram. Subscribe to my free weekly content round-up newsletter, God Rolls.
Pick up my sci-fi novels the Herokiller series, and The Earthborn Trilogy, which is also on audiobook.