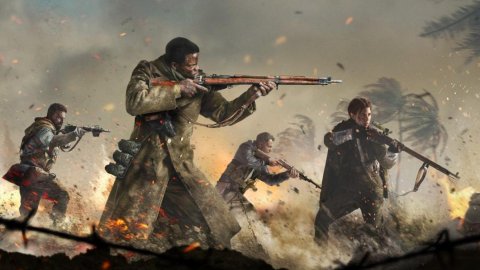 Call of Duty
There are now just a few days left for the debut of the beta of
Call of Duty
: Vanguard, thanks to which players will be able to try the multiplayer of the new Sledgehammer shooter before the debut in stores. Activision today unveiled the minimum and recommended system requirements of the PC version of the beta.
Apparently we are not talking about particularly demanding requirements, with the Intel Core i5-2500k and GTX 960 2GB pairing to meet the minimum requirements . For the recommended ones, Activision recommends an i7-4770k processor or the Ryzen 7 1800X while for the GPU the GTX 1070 8GB or the Radeon Vega 64. Obviously keeping in mind that the following requirements may vary with the full version of the game. br>
Call of Duty: Vanguard Here are the minimum and recommended system requirements of the Call of Duty: Vanguard PC beta:
Minimum
Operating System:
Windows
10 64 Bit ( 1909 or later) CPU: Intel Core i5-2500k or AMD Ryzen 5 1600X RAM: 8GB Video Card: Nvidia GeForce GTX 960 2GB / GTX 1050Ti 4GB or AMD Radeon R9 380 Storage space: 45 GB
Recommended
Operating System: Windows 10 64 Bit (latest Service Pack) CPU: Intel Core i7-4770k or AMD Ryzen 7 1800X RAM: 16 GB Video Card: Nvidia GeForce GTX 1070 8GB / GTX 1660 6GB or AMD Radeon RX Vega 56 Storage Space: 45 GB
The Call of Duty: Vanguard beta will run over two weekends: Friday, September 10 to Monday 13 September and from Thursday 16 September to Monday 20 September. The first weekend, or from 10 to 13 September, will be reserved for PlayStation users who have pre-ordered the game.
The second weekend will be a full Beta open for PlayStation users. To access the first two days of the Beta (16 and 17 September), users of other platforms
will have to
pre-order the game. The Open Beta will be available on all platforms from Saturday September 18 to Monday September 20 7pm.
Call of Duty: Vanguard will be available in stores November 5 for PC, PS4,
PS5
,
Xbox Series X
| S and Xbox One. Call of Duty: Warzone's Pacific map was unveiled yesterday and will be available later this year.
Have you noticed any errors?
---
'Call of Duty: Warzone': Everything We Know About the New Pacific Map
© Raven Software All of the 'Call of Duty: Warzone' footage shown during the livestream was pre-alpha.
Call of Duty: Warzone will be getting a Pacific island makeover later in 2021, to tie in with the imminent release of Vanguard.
This was announced during a multiplayer reveal stream for Vanguard that took place on Tuesday, September 7. Here, developer Raven Software spoke at length about the upcoming game's online component and how it will differ from previous entries in the franchise.
While the vast majority of the broadcast was dedicated to Vanguard, the team did briefly touch upon a few changes that will be coming to Call of Duty: Warzone later in the year. Specifically, they mentioned that they will be launching an anti-cheat system for the live service in 2021, alongside a brand new map.
'Call of Duty: Warzone' Gets a Change of Scenery
Shown off in a pre-alpha footage reel, this new environment (entitled 'Pacific') is decidedly more colorful than the dreary metropolis of Verdansk and promises to offer a completely different kind of battle royale experience. From the looks of things, there will be dense jungles to explore, tactical opportunities for camouflage (thanks to all the greenery) and even a few smaller urban environments to mix things up.
Describing the tropical map in more detail, Amos Hodge, associate creative director at Raven Software said: 'Featuring an entirely new play-space complete with all new points of interest, players will get to traverse the lush [...] landscapes of the island and make their way through a variety of extremely cool locations while battling it out alongside friends and foes.
'Our goal was to create a fresh, new experience for Call of Duty players, by breaking out of the war-torn world of Verdansk to create an atmosphere that is vibrant, alive and [that] really opens the doors to how we can craft the narratives and events.'
© Raven Software The new Pacific map is a radical depature from the previous environments seen in 'Call of Duty: Warzone'. Raven SoftwareIntergration With 'Call of Duty: Vanguard'
It has also been confirmed that matches here will take place in the WW2 era, to pair with Vanguard's campaign.
Speaking about this, Hodge, added: 'With the launch of Vanguard, we want to ensure that the feel and character of the game extends beyond the multiplayer experience and into Call of Duty: Warzone.'
On that note, he confirmed that Vanguard will be integrating with Warzone upon release, much like how Call of Duty: Black Ops Cold War did back in 2020. This essentially means that weapons, operatives and battle pass rewards from the upcoming historical shooter will all be carried over into Warzone.
To make this transition as seamless as possible, the Pacific map has been developed on the exact same engine as Vanguard. As such, the look and feel will be consistent across both games.
When Is the New 'Call of Duty: Warzone' Map Coming Out?
Elsewhere, we found out that 'Warzone Pacific' (as it is referred to by Hodge) will be fully optimized for crossplay, cross-progression and cross-gen support. Like with Halo Infinite, this means that you will be able to play with your friends across different systems.
While there is no firm date for the Pacific map yet, Raven Software has confirmed that it will be launching this year, sometime after the release of Call of Duty: Vanguard. This indicates that the update will go live between November 5 and December 31, but we cannot narrow it down any further than that.
According to the livestream, the long-awaited anti-cheat system will launch simultaneously with 'Warzone Pacific.'
Call of Duty: Warzone is available to download for free on PC, PS4, PS5, Xbox One, Xbox Series S and Xbox Series S.
© Raven Software In addition to the jungles, there will also be some urban environments in the Pacific map. Raven Software
Related Articles
Start your unlimited Newsweek trial