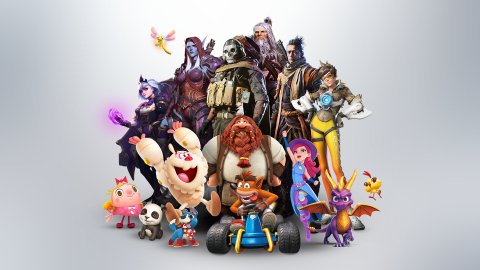 Microsoft and Activision Blizzard
Tom Warren, a reporter for The Verge and quite close to
Microsoft
issues, argues that the acquisition of Activision
Blizzard
is not expected to close before 2023, contrary to information that has been circulating recently.
In a tweet, Warren he explained that the conclusion of the acquisition is not yet imminent, despite rumors to the contrary. Indeed, in recent months, opinions have emerged on the closing of the transaction, which is given as very close, considering that according to some, the final approval by the FTC was expected as early as August.
Evidently it did not go quite like this, at least according to the lack of official updates about it. "Microsoft is still aiming for 2023 and the UK CMA is expected to enter phase 2 this week, with the European Union and the FTC still investigating the matter."
According to the journalist of The Verge, in short, the procedure still takes time and it is difficult for the acquisition to be concluded sooner than expected. On the other hand, Microsoft has always aimed at 2023 as the period for the conclusion of the maneuver and the forecast has not changed. This does not mean that the acquisition is not destined to go through, according to Warren: "I expect it to conclude positively,
but it will
not happen in a short time", he specified.
Being a maxi-acquisition from 70 billion dollars, it is logical that the maneuver takes a long time to be examined and eventually approved by the regulatory bodies.
Have you noticed any errors?
---
Why Microsoft's Activision Blizzard Exclusivity Claims Appear Hypocritical
Starfield
Bethesda
Today, Microsoft faces a fresh set of hurdles for it's nearly $70 billion purchase of Activision Blizzard, this time from UK regulators who are opening a "stage 2" investigation of the deal because frankly, they don't believe Microsoft when they say they'll do things like keep Call of Duty non-exclusive forever.
The UK's Competition and Markets Authority says they are "concerned that Microsoft's anticipated purchase of Activision Blizzard could substantially lessen competition in gaming consoles, multi-game subscription services, and cloud gaming services."
Phil Spencer has published a statement pushing back on this directly, reiterating what Microsoft has said in the past, that Call of Duty will remain on all platforms, even if it does come to places like Game Pass:
"We've heard that this deal might take franchises like Call of Duty away from the places where people currently play them," Spencer said. "That's why, as we've said before, we are committed to making the same version of Call of Duty available on PlayStation on the same day the game launches elsewhere."
And yet it's easy to question Microsoft here, given that in their $7.5 billion purchase of Bethesda, we have already seen them move to make big, upcoming games like Starfield exclusive to Xbox, Game Pass and PC, keeping them off PlayStation. Now this 10x larger purchase of Activision Blizzard will not do that because…reasons? Just so Microsoft can avoid regulatory scrutiny? Microsoft's Brad Smith says "We want people to have more access to games, not less." But that seems like it only applies when they can get away with exclusivity, in cases like Bethesda franchises, but something like Call of Duty is apparently impossible to ignore because regulators have actually heard of it.
Call of Duty
IW
Most industry observers figured that as soon as Activision's current multiplatform deals were done, that Microsoft would indeed take Call of Duty exclusive. And even if Microsoft says they're not doing that, is that true…forever? If five years, in ten? With Call of Duty being a 20+ year franchise, it's not unwise to be asking those sorts of questions. And if the deal goes through and Microsoft changes their mind, what then? Will some regulatory body force them to divest Activision? Unlikely.
It just seems strange to me to have two massive, high profile publisher purchases, Bethesda and Activision Blizzard, and one is going to likely bring a whole slew of Microsoft exclusive IPs and games, while the other won't, and we just have to take Microsoft at its word. This is the direction the industry is moving, fewer exclusives, as also seen in Sony's purchase of Bungie, where Destiny and future Bungie games have been promised to be multiplatform. But in that case, it feels more like that was a probably condition of Bungie agreeing to sell, in order to not slash through their existing fanbase, rather than something Sony did to avoid regulatory scrutiny.
It seems likely that regulators will not have enough to block this deal, and I'm not even sure the case they're making is all that strong (the idea that Call of Duty has no competition in the industry is less true now than it's ever been). But I do think Microsoft is being somewhat hypocritical here by using a "we just want everyone to play our games anywhere!" let's-just-all-get-along pitch while simultaneously continuing to make loads of Xbox exclusives because they're not at the scale of Call of Duty. But it's easy to imagine that Starfield and Elder Scrolls VI could be that big, so why are they not being handled the same way? These are questions that Microsoft has yet to answer every time this comes up.
Follow me on Twitter, YouTube, Facebook and Instagram. Subscribe to my free weekly content round-up newsletter, God Rolls.
Pick up my sci-fi novels the Herokiller series and The Earthborn Trilogy.