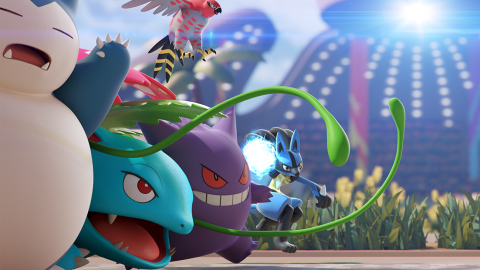 Pokémon Unite
The Pokémon Company has announced the launch of the 2022 Pokémon Unite World Championships. Starting in the current month, ie February, the monthly qualifiers will be held in all geographic areas. The prize pool for which players will compete is over $ 1 million, of which $ 500,000 only in the World Championships.
Read more details from the official press release:
Players are invited to train teams to compete in 5v5 battles in the Pokémon UNITE tournament mode. From February to June, each month
there will be
qualification events open to all and without participation fee, in which players will be able to participate using the version of Pokémon UNITE for
Nintendo
Switch, iOS or Android.
In the first season of the championship, Coaches from seven geographical areas will be able to compete: North America, South America, Europe, Oceania, Japan, South Korea and Asia Pacific. The events will be open only to those who are at least 16 years old.
Registration for each Pokémon UNITE championship event will be open to all via Battlefy. Players will only be able to participate in the geographic area in which they are resident and can only form teams with players from the same area.
For more information, visit the official website
Have you noticed any errors?
---
Pokemon Unite Aegislash Release Time, Date, and Role
Pokemon Unite continues to get bigger and bigger as Aegislash is set to join the popular battle arena game later this week.
Alongside the release of Aegislash, the brand new Battle Pass 5 "New Sheriff In Town" arrived a little over a week ago, filled with plenty of new styles. Including Frontier Style Zeraora, Gardening Style Dragonite, Trainer Fashion pieces, and more.
Here's everything you need to know about Aegislash, including the official release date and time.
READ MORE: Pokemon Legends: Arceus Update 1.0.2 Patch Notes
Pokémon Unite | Aegislash Character Trailer
BridTV
8228
Pokémon Unite | Aegislash Character Trailer
https://i.ytimg.com/vi/JpDVY3cZhSc/hqdefault.jpg
950964
950964
center
26546
Pokemon Unite Aegislash Release Time & Date
The official release date for Aegislash in Pokemon Unite is Thursday, February 10th, 2022.
Based on the release time of previous Pokemon Unite updates, Aegislash will come to the game at 11PM PT (February 10th) / 2AM ET (February 11th) / 7AM GMT (February 11th).
READ MORE: Best Pokemon GO Love Cup Team & Pokemon Season 10
Aegislash Role & Move Set
Players will be pleased to know that Aegislash is an All-Rounder Pokemon. It first evolves from Honedge to Doublade, before reaching its final form of Aegislash.
According to gamewith.net, Aegislash will have the following moves:
A shield to block and control crowds
A shield that appears to block damage and control crowds, similar to Snorlax's Block.
Triangular targeting for area damage
Highlights the area in front of Aegislash and hits all Pokemon in this area with a powerful move.
Sword attack that sends enemies flying
A sword attack that will work well to control crowds by throwing enemies high into the air.
Lasar beam focusing
Focuses on specific targets within a straight line.
Sword smash
This will likely be Aegislash's Unite move, which is a powerful downward sword smash that will likely deal a deadly blow to any Pokemon in its path.
For more details on Aegislash, make sure to check out gamewith.net's full guide.
Have something to tell us about this article?