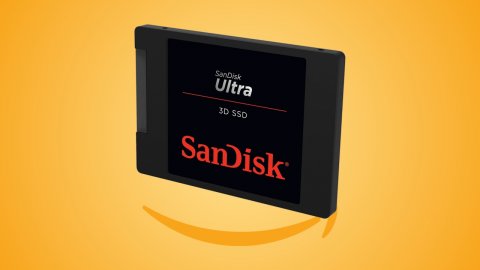 Amazon offers
A 1 TB SanDisk Ultra 3D SSD is available
on Amazon today
. The discount reported is 11%, or about € 11. function ready (fn) {if (document.readyState! = 'loading') {fn ()} else {document.addEventListener ('DOMContentLoaded', fn)}} ready (function () {window.addEventListener ('message', function (event) {let target_origin = 'https://aff.netaddiction.it'; if (event.origin! == target_origin) return; if (typeof event.data == "object" && event.data.hasOwnProperty ( "type") && event.data.type == "embaff") {let embed_id = event.data.embed_id; if (embed_id == '495') {document.querySelector ('#_ aff_embed_495'). setAttribute ('height ', event.data.embed_size);}}}, false);}) The full price indicated by Amazon for this SSD is 101.71 €. The current discount is the best ever offered for this product, so it's a good time
to buy it
. This SSD is sold and shipped by Amazon.
This Sata SSD offers a read speed of up to 560 MB / sec and a write speed of up to 530 MB / sec. This SSD hooks up to the motherboard via the SATAIII interface. Make sure your motherboard is compatible!
We also point out that the Telegram Channel dedicated to geekinco offers is available. Follow it to be always updated on the latest offers selected by our editorial staff!
SanDisck SSD from 1 TB This news includes a link with an Amazon affiliation that can earn a commission to geekinco.
Have you noticed any errors?
---
Amazon's secret sale site is bursting with incredible tech deals — save up to $70
We may receive commission from purchases made via links on this page. Pricing and availability are subject to change.
Find great device deals on Amazon's super secret sale site! (Photo: Amazon)
If you've been looking for a sign that it's time to upgrade the technology in your home — this is it! Whether you need to fix internet dead zones, add some smarts to an older television or get a whole new one altogether, you're going to want to check out Amazon's super secret sale section. 
Every week, the retail giant puts devices like televisions, smart-home devices and electronics on deep discounts. This week Amazon has some excellent deals on a Fire TV Stick 4K Max, just $40, and a 50-inch Toshiba television that's $70 off! You can see our picks below or find all the sales here. 
Amazon Prime members get an even better deal; they get two-day shipping on many items as well as access to thousands of movies, TV shows, podcasts, audiobooks and more. If you're not signed up yet, you can start a free 30-day trial here. 
TV just got way better. (Photo: Amazon)
The Fire TV Stick 4K Max is currently 27 percent off. A small dongle that plugs into a TV and gives access to Full HD content, the Fire TV Stick 4K Max delivers an endless stream of entertainment: millions of movies and TV episodes from services like Netflix, Prime Video, Disney+ or Peacock, plus music, podcasts and audiobooks from Spotify, Audible, Pandora and more.
The voice remote gives you access to Alexa and all her talents; just hold down a button to speak and have your smart assistant recommend movies, find TV shows, play music or access your other smart devices like cameras or thermostats. The Fire TV Stick Lite has legions of fans and nearly 21,000 five-star reviews. One reviewer said, "This Firestick is amazing. The processor is waaaay faster and responsive than older generation of Firestick.'
$40 $55 at Amazon
Get rid of Wi-Fi dead spots with this powerful system. (Photo: Amazon)
The Eero 6 dual-band mesh Wi-Fi 6 system has up to 5,000 square feet of coverage, allowing you to extend the reach and speed of your internet. Eero 6 supports 75 or more devices at once, creating a more powerful and efficient network in your home. Set-up takes just minutes but, for the just in case, there's free customer support handy seven days a week.
Story continues
'This device is super easy to set up and lightning fast,' a five-star fan said. 'I was able to stream two 4k movies and three HD movies on five devices at once with no lag. Set everything up in less than 10 minutes.'
$195 $279 at Amazon
It easily transforms from a tablet to a laptop. (Photo: Amazon)
Tablets are all about convenience, but sometimes you want to be able to sit down and type out something quickly. The Fire HD 10 tablet doesn't make you choose. It comes with a Bluetooth keyboard that seamlessly connects to the tablet, allowing you to transform the whole thing into a laptop in seconds. This tablet also includes a 12-month subscription to Microsoft 365 Personal with all the important Office apps — Word, Excel, PowerPoint, OneNote, Outlook, OneDrive and Skype), along with advanced security for files and photos stored on OneDrive cloud storage.
'This is the best Fire tablet I have purchased — I have had 5,' a five-star reviewer said. 'The battery life has been really fantastic. I bought a lighting cable and was surprised how quickly it charged up. I am very happy with my Fire.'
$220 $270 at Amazon
'Alexa, find me shows from the UK.' (Photo: Amazon)
Toshiba's 50 inch C350 LED 4K UHD Smart Fire TV is powered by Regza Engine 4K to display a stunning picture quality in ultra-high definition. Get an immersive, professional, theatre-quality display with Dolby Vision HDR and HDR10 and clear, detailed auto courtesy of the DTS Virtual:X processing package. This 50-inch set also comes with an Alexa Voice Remote to control the display and access all your apps and content.
A reviewer who prefers to keep their TVs on the simpler side was still thrilled: "My wife and I are in the 'We want it simple and have it work' group…We simply want a very good picture, an easy-to-use remote and for the item to be reliable. This TV has not disappointed us, and we are very pleased with the purchase." Another happy customer said "Setup was a breeze, took only five minutes…. The picture is amazing and lifelike as though you are there yourself. The speakers are crisp, clear and loud. Toshiba did a fantastic job."
$360 $430 at Amazon
The reviews quoted above reflect the most recent versions at the time of publication.
Looking for more great Amazon deals? Check these out:
TV deals:
TCL 50-inch Class 4-Series 4K UHD Smart Roku LED TV, $330 (was $500), amazon.com
Sony X85J 65-inch 4K Smart Google TV, $798 (was $1,200), amazon.com
Hisense 65A6G 65-inch 4K Android Smart TV, $450 (was $600), amazon.com
LG OLED65B1PUA B1 Series 65-inch 4K Smart TV, $1,597 (was $2,300), amazon.com
Vizio 65-inch P-Series Premium 4K Smart TV, $899 (was $1,300), amazon.com
Headphones and earbud deals:
Smartphone and tablet deals:
Video game deals:
Vacuum deals:
Hoover ONEPWR Evolve Pet Cordless Small Upright Vacuum Cleaner, $149 (was $210), amazon.com
iRobot Roomba 694 Robot Vacuum, $245 (was $274), amazon.com
Samsung Jet 75 Stick Cordless Lightweight Vacuum Cleaner, $396 (was $499), amazon.com
iRobot Roomba i3+ (3550) Robot Vacuum, $549 (was $600), amazon.com
Hoover WindTunnel 2 Whole House Rewind Corded Bagless Upright Vacuum Cleaner, $160 (was $170), amazon.com
Fashion deals:
Lodge Pre-Seasoned Cast Iron 5 Piece Set, $90 (was $150), amazon.com
Dreo Air Fryer, $70 (was $90), amazon.com
Umite Chef Kitchen Cooking Utensils Set, $34 (was $44), amazon.com
Instant Pot Duo Crisp 11-in-1 Electric Pressure Cooker with Air Fryer Lid, $160 (was $200), amazon.com
Ninja DT251 Foodi 10-in-1 Smart XL Air Fry Oven, $250 (was $350), amazon.com
Kitchen deals:
Beauty deals:
Soda Glove Ankle Boot, starting at $30 (was $90), amazon.com
Omoone Women's Lounge Plaid Long Shirt Jacket, $40 (was $67), amazon.com
adidas Women's Cloudfoam Pure Running Shoe, starting at $47.50 (was $70), amazon.com
Blencot Women's Lightweight Color Block Hooded Sweater, $30 (was $42), amazon.com
Marmot Montreal Women's Knee-Length Down Puffer Coat, starting at $170 (was $285), amazon.com
Bedding deals:
MooMee Bedding Queen Duvet Cover Set, $50 (was $90), amazon.com
Utopia Bedding Queen Comforter Duvet Insert, $30 (was $39), amazon.com
LuxClub 6-piece Queen Sheet Set, $35 (was $57), amazon.com
Intelligent Design Queen Cozy Comforter, $50 (was $90), amazon.com
Comfort Spaces Phillips Twin Cotton Comforter Set, $51 (was $73), amazon.com
Health and Wellness
Touchless Forehead Thermometer for Adults and Kids, $19 with on-page coupon (was $30), amazon.com
Purell Advanced Hand Sanitizer 12-pack, $60 (was $100), amazon.com
Akgk KN95 50-piece Face Masks, $40 (was $57), amazon.com
Wet Ones Antibacterial Hand Wipes Fresh Scent 10-pack, $13 (was $18), amazon.com
femometer Touchless Thermometer, $19 with on-page coupon (was $30), amazon.com
Sports & Outdoors
Squad Hero Rechargeable Laser Tag 360° Sensors + Innovative LCDs 4-piece Set, $180 with on-page coupon (was $250), amazon.com
Sunny Health & Fitness Magnetic Indoor Cycling Bike, $436 (was $600), amazon.com
Gaiam Yoga Mat, $20 (was $30), amazon.com
Sport Squad 2-in-1 Football Toss and Flying Disc Toss Backyard and Lawn Game, $43 (was $60), amazon.com
Xterra Fitness FB350 Folding Exercise Bike, $147 (was $200), amazon.com
Read more from Yahoo Life:
Follow us on Instagram, Facebook, Twitter and Pinterest for nonstop inspiration delivered fresh to your feed, every day.
Want daily pop culture news delivered to your inbox? Sign up here for Yahoo Entertainment & Life's newsletter.