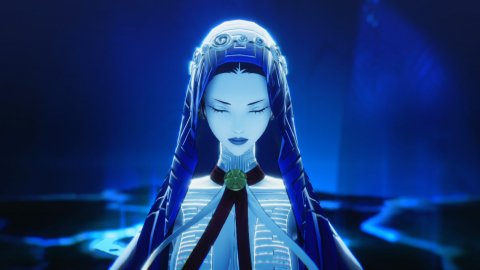 Shin Megami Tensei V
Atlus has released a new trailer dedicated to the monsters of Shin Megami Tensei 5. Today's
video is dedicated
to the demon Flauros, who debuted in the series with the first chapter in 1992.
You can see
the video above: this is the number 130 of the series.
As the trailer shows us, Flauros he is capable of attacking with physical blows that inflict multiple damage, as well as using very powerful fire spells. He is able to use powers of darkness as well. This demon from Shin Megami Tensei 5 is a sort of chimera with a humanoid body, a panther head mounted on the chest instead of the neck, and a series of metal components.
We recently got to see other demons by Shin Megami Tensei 5, like Dominion, but also the demon Mitra and the well-known mythological creature Basilisk. Finally, here is also the Genbu.
We also remind you that you can read our preview here: "Shin Megami Tensei V was certainly one of his highlights of the recent
Nintendo
Direct: we are really happy to have finally seen him in action, and we can't wait to get our hands on it next November. Atlus seems to have been working on another great JRPG that fans of the genre, and especially those who have enjoyed Persona, should really keep an eye on. "
Source Did you notice any errors?
---
Shin Megami Tensei V for Nintendo Switch Reveals Rakshasa's Gameplay in New Trailer
News
Atlus is continuing to release its long series of trailers focusing on the over 200+ demons of its upcoming JRPG Shin Megami Tensei V.
Published on October 3, 2021 Giuseppe Nelva
Atlus is continuing to release its long series of trailers focusing on the over 200+ demons of its upcoming JRPG Shin Megami Tensei V.
This time around we get to see the gameplay of Rakshasa, which has been part of the series since Digital Devil Story: Megami Tensei II in 1990.
You can watch it below.
You can also enjoy the rest of the long-running series of trailers dedicated to demons including Jack Frost, Fionn mac Cumhaill, Amanozako, Angel, Daimon, Mermaid, Mandrake, Arioch, Kumbhanda, Feng Huang, Inugami, Turdak, Fafnir, Mothman, Lilim, Futsunushi, Sraosha, Genbu, Uriel, Orobas, Girimehkala, Horus, Rangda, Arahabaki, Moloch, Preta, Ongyo-Ki, Throne, Silky, Kurama Tengu, Fuu-Ki, Slime, Onmoraki, Cu Chulainn, Scathach, Queen Mab, Kin-Ki, Succubus, Garuda, Archangel, Thor, Erthys, Narcissus, Legion, Hayatarou, Manananggal, Demeter, Anahita, Chironnupu, Shiisaa, Eligor, Basilisk, Pixie, Melchizedek, Cait Sith, Alilat, Lachesis, Power, Asura, Yamata No Orochi, Neko Shogun, Hariti, Hanuman, Naga, Byakko, Orthus, Vishnu, Gabriel, Berith, Fortuna, Anubis, Flaemis, Asparas, Kushinada-Hime, Bugbear, Agathion, Ananta, Bishamonten, Thunderbird, Seth, Raphael, Loup Garou, Attis, Inanna, Atropos, Danu, Surt, Jikokuten, Nekomata, Loa, Lamia, Ame no Uzume, Hua Po, Clotho, Dakini, Makami, Nue, Skadi, Baphomet, Koppa Tengu, Siegfried, Kelpie, Chernobog, Dyonisus, Zouchouten, Lakshmi, Baal, Ose, Macabre, Ganesha, Forneus, Decarabia,Sandman, Dominion, Bicorn, Andras, Sandalphon, Oni, Yurlungur, Anzu, Take-Minakata, Suzaku, Atavaka, Oberon, Titania, Cerberus, Isis, Principality, and Flauros.
Shin Megami Tensei V releases for Nintendo Switch on Nov. 12, 2021. If you're unfamiliar with it, you can enjoy and a brief official description below, hinting at the story.
"When a grisly murder scene in modern-day Tokyo blocks our protagonist's walk home, an unplanned detour leaves him buried and unconscious.
He awakens in a new Tokyo, a wasteland ravaged by apocalypse now called Da'at… but before bloodthirsty demons can claim his life, a savior emerges, and they unite to become a mighty being neither human nor demon: a Nahobino.
With newfound power, the protagonist ventures through Da'at, an enigmatic realm filled with mythical deities and demonic tyrants in constant conflict for survival. Searching for answers, the protagonist must forge his own path in a battle between light and dark to dictate the fate of the world. "
If you want to see more, you can enjoy the latest two gameplay trailers, the previous trailer, more promotional videos, another recent trailer, two trailers showing characters and combat features, the story trailer, an earlier promotional video, another trailer from a Nintendo Direct, the latest gameplay, previous screenshots, even more images, and the latest gallery.