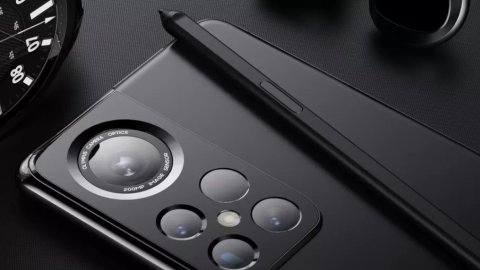 With Samsung
Galaxy Z Fold 3
and Galaxy Z Flip3 now available in stores for a few days, the next Galaxy Unpacked event will inevitably be dedicated to the "S" series smartphones coming next year. In the meantime, rumors have appeared on the net, according to which the standard and Plus models of the Samsung Galaxy S22 will have smaller screens than the S21 line and that it reveals further alleged details on the smartphones.
According to the information shared by the Korean blog Naver and the well-known insider Tron, Samsung Galaxy S22 will not have a camera under the display unlike the Galaxy Z Fold3. Apparently the technology used by Samsung in this sense is not yet advanced enough for mass production for models with a wide circulation such as those of the S series.
As mentioned at the beginning, also apparently the displays of S22 and S22 + will be smaller than the previous generation. Specifically, according to the blog, they will have screens with dimensions of 6.06 and 6.55 inches respectively, whereas the S21s were 6.2 and 6.7 inches. The S22 Ultra model instead will have a 6.81-inch screen, practically identical to that of the S21.
Samsung Galaxy S22 As for the processor, apparently the S22 will mount the Snapdragon 895, but only the Ultra model will have the Exynos chipset, due to the chipset crisis that is expected to continue into 2022. In addition, the standard S22 and Plus will mount a triple camera on the back with a 50MP sensor and two 12MP sensors. The Ultra model, on the other hand, will have four, one with a 108MP sensor and the others with 12MPS, as well as a module for laser autofocus.
Obviously these are all unofficial details and to be taken with pliers, waiting for Learn more about the Samsung Galaxy S22 line at the next Galaxy Unpacked appointment.
Source Have you noticed any errors?